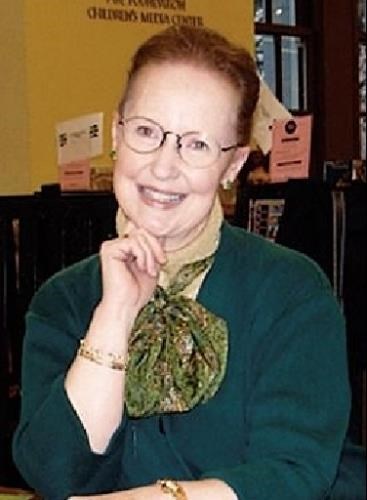 Father Phillip Craig's homily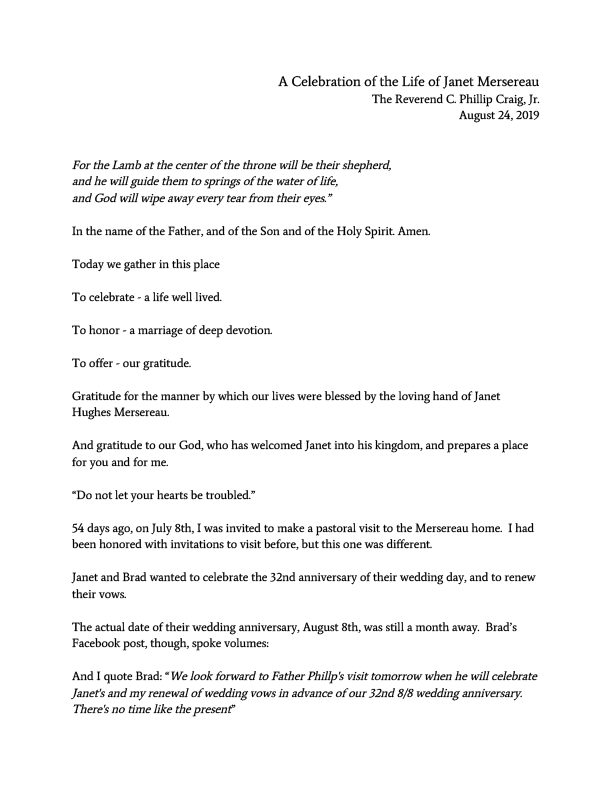 Memorial Service Bulletin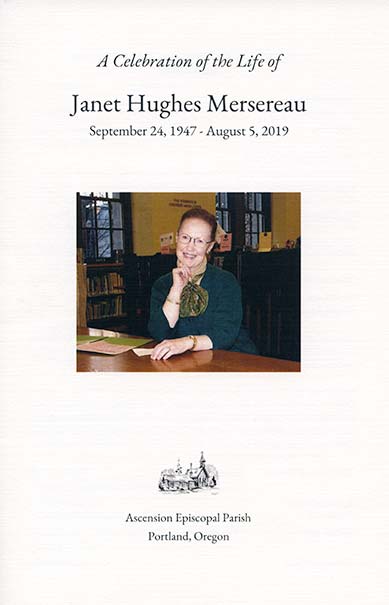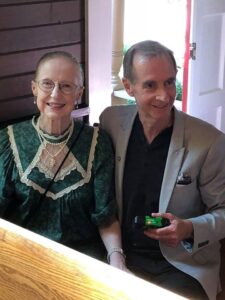 Janet's Loving Trek poem was read by Father Phillip as it was on our wedding day, now on our August 8, 2018 31st wedding anniversary.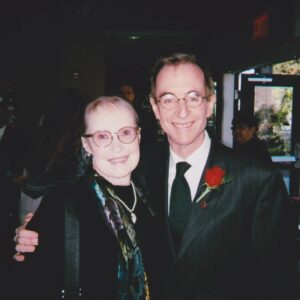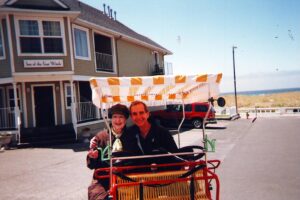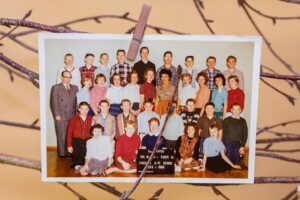 Janet Hughes 1st Row 3rd From Left – Prosser Jr. HS
Janet Hughes Mersereau
Sept. 24, 1947 – Aug. 5, 2019
Janet Hughes Mersereau, an effervescent other-oriented gift to the world, was born in Dayton, Wash., Sept. 24, 1947, to Raymond and Corneil. She died peacefully after a courageous seven-year battle with lobular breast cancer at St. Vincent's Hospital in Portland. Her husband, Brad, was at her bedside after many friends shared precious time in their presence. Brad had the privilege of marrying the kindest, most gentle unconditionally loving woman that he ever knew, Aug. 8, 1987.
Janet attended a two-room school house in Patterson, Wash., before moving to Prosser in the same state. She graduated with honors in 1965 and retired a national Latin competition trophy for Prosser High School. Motivated by her mentor and teacher, Mrs. Cochran, Janet continued her college education at the University of Oregon. Janet was a dorm counselor for freshman women, was selected for Mortar Board academic honors and graduated with a B.A. English degree in 1969. She lived for a summer in Ireland as a delegate of the Experiment In International Living, and then continued her M.A. English / Education degree at the University of Oregon, graduating in 1971. Janet felt that she was put on this earth to teach. Her first multicultural educating assignment was in Wahiawa, Hawaii as a Leilehua High School Instructor. One student was so inspired by Janet's supportive teaching style that, for an instructional unit on Shakespeare, he presented her with an exact scale model of the Globe Theatre in toothpicks! In 1973, Janet published and illustrated an original poetry book entitled Hues, Rays and Rainbows.
Janet consistently modeled passion, enthusiasm and tenacity as an educator and mentor for her students. Her correspondence with former pupils reflected a deep concern as many progressed in their chosen careers throughout the world. Janet taught in settings as a Vocational School Instructor, ESL Newcomer Teacher, Mt. Hood Community College Instructor, Substitute Teacher, Summer TAG and Migrant Program Instructor, Private School ESL Instructor and Private School Mentor. Janet also volunteered at the Multnomah County Library as a Homework Helper, Library Ambassador, Summer Reading Assistant and ESL Mentor. In 1994, 1997, 1998 and 1999, Janet served as a SMART (Start Making A Reader Today) volunteer. She published her Children's Book, "Nobody Has A Funny Name," in 1998 and donated 10 copies to each of the over 100 participating Oregon school libraries. In 2000 and 2005 Janet received awards from Multnomah County for her exceptional service as a library volunteer.
Motivated from values of sharing and paying it forward, Janet established the Salvation Army West Women's Shelter Wings Award in 1998 through 2017. She funded scholarships to domestic abuse survivors who would read their winning essays out loud and eat cake as part of the annual Jan. 27 celebration. After her 2012-2013 chemotherapy and radiation treatments, Janet volunteered at the same St. Vincent's Hospital My Little Waiting Room assisting with small children while family members had surgeries. Over the next three years she artistically created 125 drawings for the little ones to color. Her children's coloring book is featured at Dooger's Restaurant in Seaside, Ore. In 2017, Mrs. Mersereau established the Janet Hughes Mersereau Scholarship at the University of Oregon's American English Institute.
Janet is survived by her husband, Brad; and her cousins, Margaret Hudson and Pat Robinson. A grand celebration of life will be held at 2 p.m., Aug. 24, 2019, at Ascension Episcopal Parish, 1823 S.W. Spring Street, Portland. In lieu of flowers, the family suggests contributions to Janet's University of Oregon American English Institute Scholarship Fund.
Published in The Oregonian from Aug. 8 to Aug. 11, 2019
Memories & Condolences
Guest Book sponsored by The Family
August 25, 2019
Mortar Board was proud to claim Janet as a member of our national society of scholar-servant-leaders. Please know of our deep sympathy and most sincere regard for the way that she lived Mortar Board's Ideals of scholarship, leadership and service.
Jane Hamblin, Executive Director,
writing from the National Office of
Mortar Board in Columbus, Ohio
August 23, 2019
Dear Brad: I am so sorry for your loss of your beloved Janet. I am grateful to have become acquainted with her through my friendship with you. She radiated warmth and acceptance. I know from your stories of her impact on the community and so many lives. I found her to be modest about the extent of those contributions. She will be forever missed and fondly remembered.
Warmly,
Brenda Ray Scott
August 23, 2019
Janet has impacted so many lives, and will continue to do so in various ways. I'm sad not to have met her in person, but I feel like I have known her for a long time through letter correspondence. Each time a letter arrived, I would close my door and enjoy learning more – not only about her but lessons from her messages. Each time I award a scholarship in Janet's name she will be warmly remembered. The first four scholarship recipients were fortunate to have the opportunity to meet her via phone, video, and letters. Future recipients will learn about her through different means.
Hugs and love,
Cheryl Ernst
August 14, 2019
I loved your stories, your kindness, your warmth, and your friendship, my cousin, through the whole length of our lives. We will all miss you so much, and will remember you with acts of kindness in your honor.
Love, Peggy
Peggy Hudson, Family
August 14, 2019
Over forty years of friendship, you never ceased to amaze me with your wisdom, selflessness, compassion and unfailing support. You will be deeply missed Jan.
Love, Kris
August 12, 2019
This world grew brighter the day you were born, and dimmer when you transitioned from it. I'll miss our yearly September birthday card exchange, but most of all, I'll miss you, dear and loyal friend.
Christine Ross
August 11, 2019
How lucky I've been to have a friendship with Janet. I will always remember her as one of the kindest, and most unselfish persons I've ever known…a light in the dark.
August 11, 2019
Thank you, my sweetheart, for being my best blessing and greatest gift from God. I treasured every day of knowing you through 6 1/2 years of courtship and just short of 32 married years. I will always hold you in my heart with love. God has prepared a place in heaven for you, and you are now preparing a place for another. May your soul rest in peace and rise in glory.
Love, Brad
August 10, 2019
I am Audin FRANCOIS from Jacmel, Haiti. Today, I am extremely sorry for the loss of Mrs. Mersereau. So, on behalf of the CARIBBEAN LANGUAGE AND EDUCATION ACADEMY (CLEA) and my all fellow Haitians, I send my all sincere sympathies to the whole family (Mersereau and UO).I will always remember her. Rest in peace!!!
Janet's Eulogy
August 24, 2019
Ascension Episcopal Parish

Janet loved to write and read poetry. You all have her "Loving Trek" poem written for and read on our wedding day as a keepsake in your bulletin. Soon, this poem and her updated "Our Loving Trek Revisited" will be framed from a printing plate of my dear wife's beautiful handwriting and placed in the NW Portland's William Temple House Chapel. We are starting with one of her favorite's today entitled: "Barter" by Sara Teasdale.
Life has loveliness to sell
All beautiful and splendid things …
Blue waves whitened on a cliff,
Soaring fire that sways and sings,
And children's faces looking up,
Holding wonder like a cup.
Life has loveliness to sell …
Music like a curve of gold,
Scent of pine trees in the rain,
Eyes that love you, arms that hold
And, for your spirit's still delight,
Holy thoughts that star the night.
Spend all you have for loveliness …
Buy it and never count the cost;
For one white singing hour of peace,
Count many a year of strife well lost
And, for a breath of ecstasy,
Give all you have been, or could be.
To honor Janet's "Holy thoughts that star the night," it will be appropriate for me to continue her other-oriented approach with daily acts of kindness!
I would like to thank all of you here today for your love for Janet and support of the two of us. Just before Hospice-sanctioned hospitalization at St. Vincent's, for her last 3 earthly days, my sweetheart had asked me, "Where will I go when I am no longer with you?" I replied, "Heaven." Janet then said, "Yes, and I'll be free of pain." I replied "Yes, and I will join you when God chooses that my time is ready." I thank God for my dear wife's final words which were, "Hold me." I did, and I still do with all the love in my heart. After her passing, I learned that my sweetheart had donated her corneas so that others could see. The Lions VisionGift organization sent me a sacramental Remembering Heart which is now around my neck. It gently chimes against my catechism cross with a sweet tone that makes me feel as if Janet is now holding me.
A close friend recently remarked, "Everybody loved Janet" and I thought how true! In preparing for today's celebration of her passion-driven life I am realizing how many ways my sweetheart gave and received love. Janet's first teaching assignment after obtaining her Master's degree at the University of Oregon sparkled with possibility. She loved new lands and new cultures, so she accepted a teaching assignment in Wahiawa at Leileihua High School fulfilling her desire to leave the comfort of Prosser, Washinton and Eugene, Oregon. A number of her initial students became precious lifelong friends. While enjoying her new locale, she yearned for more connection with her Summer in Ireland as an ambassador in the Experiment in International Living. Janet proactively consulted the phone book, called a faculty member at the University of Hawaii, and made the acquaintance of soon to be another lifelong friend, Sister Gertrude O'Sullivan. Janet loved that Gertrude spoke with an Irish brogue which was music to her ears. Sister Gertrude, channeling the Martin Buber "I Thou" philosophy: the holy in me meets the holy in you – said to Janet, "Your appointment with God is with the next person you meet, there holiness waits." How appropriate. As her husband for almost 32 years and as a shy fellow when we courted for 6 years, I soon discovered why everybody loved Janet. She unconditionally loved everybody back. She was always genuinely interested in the other person and his or her story. She listened acutely like no other individual I have ever met, Like a good musician, she intuited when the melody required a rest, so she was silently present and would listen. Janet loved to teach English as a Second Language, a subject which required highly refined listening skills. I would watch my sweetheart's leaning in and leaning back teaching body rhythm with her students. It was a dance of imparted knowledge. When attending U.S. citizenship ceremonies for her ESL students, I loved my sweetheart all the more knowing that she had skillfully assisted in making their dreams come true.
When lobular breast cancer invaded her bones, I wrote a pledge to my forever sweetheart and placed it on her bedside table. It said that I would lovingly support her every day in every way and I would listen more effectively. I loved hearing her stories, and we would read poetry at night. We both tuned-in to the disguised blessing lesson of her lobular breast cancer first diagnosed in March of 2012. Time is precious. Maxing with love and laughter is paramount. I so enjoyed being in my dear wife's presence when we would just laugh for no reason at all, except that we were delighted with each others' company. Janet treasured her friends, and there were many. She loved to write and would decorate the letter or card in such a way that the recipient before reading the return address would know, that's a "Janet" letter and chances are I'm going to keep it. I delighted in the responsibility of mailing at least one of these gems every day of our marriage. I thank God for all the lessons about love that my dear wife taught me not through words but simply through being. I will miss her so, but am grateful as Father Phillip said to Janet on her final earthly night that God had set a place for her in heaven and that she would set a place for another.
Brad Mersereau
Peggy's Remarks
8/14/2019
I'm Janet's cousin Peggy. Janet and I were born a few months apart, and just a year after my sister Pat, in Dayton, a small farming town in SE Washington. Her father, (Pat's and my Uncle Ray) raised cattle and fixed up ranches to sell. After a few years, her family moved to Paterson, an even smaller town along the Columbia River, and later to Prosser. Her mother, our Aunt Connie, taught grade school wherever they lived. Pat and Janet and I all started out in two-room schools, which meant that we got to learn mostly at our own pace since our teacher had three other grades to deal with. That was a good thing for us because we were pretty independent little kids!
When we were little, Janet and I discovered early on that our voices sounded very much alike, and if one of us called out, "Mommy!" both of our mothers would come rushing to see what was needed. Maybe not very nice of us, but we did giggle together about it.
At the ranch at Paterson, the train track ran close behind the house, and Janet and Pat and I would eagerly anticipate the trains coming by. We'd run to wave at the engineer and enjoy the rumble and clink and clunk and – sometimes – the engineer would pull the whistle for us.
As a redhead, Janet had a real affinity for other redheads. By the time she was five or six years old, she had a Raggedy Ann doll and a Raggedy Andy, too, with mops of red hair, just as big as she was. She was a big fan of Lucille Ball on I Love Lucy. She even watched Howdy Doody!
In 1952, when Janet and I were 5 years old, Pat's and my folks built a house with a full basement that they didn't divide up right away, and we kids used it as a roller skating rink, shooting around the furnace and skimming by the posts and making quite a racket. I'm sure we spent a lot of energy that way! When Janet's family spent summers at Wallowa Lake, Janet went most evenings to the roller skating rink there, and I understand from Brad that she has also skated at The Oaks here in Portland. Dance was another activity she loved, and as kids we all took ballet, tap and gymnastics. Janet was definitely the most limber! Pat and I remember tap dancing on the kitchen linoleum with Janet and Aunt Connie – it was so much fun to practice that way! When she went to Hawaii to start teaching, Janet was eager to learn hula dancing and all she could about Hawaiian culture from her students – always looking to learn as well as teach, and enjoy time together.
Janet wished she could have a little brother or sister. That just didn't work out, but she was always glad to have cousins or friends come to visit. She especially enjoyed her cute and lively Pomeranian Sugar, and they played and danced and snuggled together. I remember our family coming to visit Janet and her parents in Prosser, and Sugar would be shut inside the house to keep her from rushing out and getting in the way of parking the car, but she'd be right behind the screen door, bouncing as high as she could to see who was there and bark her welcome to us.
As children, my sister Pat and I often asked Janet to tell us a story, and she would make something up on the spot for our entertainment. I wasn't surprised when she wrote her book
"Nobody Has A Funny Name". She used her imagination and her kindness on that one! She was a great reader from an early age, and she had all the Oz books – "The Wonderful Wizard of Oz" was just the first one, and – did you know? – there were fourteen others. She seemed to know them all quite well.
Janet always loved learning and excelled at school. She enjoyed helping others learn, especially ESL, and loved helping at the public library. She wanted everyone to achieve as much as they could, and I expect many people here benefited from her interest, encouragement, and support.
For years and years, I have been one of the lucky recipients of Janet's regular letters. We talked about what we were reading (one of our favorite authors was Jane Austen), going to the opera, our teaching, and what was going on in our lives. Nothing inflammatory, always thoughtful and well written – I will miss her letters so much. In fact, just two days after her death I saw a beautiful card I would have loved to send to her – green with beautiful luna moths that you could punch out of the card and put in your hair or use to decorate your room – she did have a love of green and things Irish.
Janet had a sense of adventure, an eagerness to explore, a positive outlook and a generous, kind nature. Her father was not the easiest of parents. She persevered through times of high pressure, pain, and way too many migraines, and kept on smiling. I was very glad when she met Brad and they made a match – they have been so good for each other and for everyone else as a team.
Janet, we will miss you and we will honor you in our own ways – maybe by stopping to enjoy a moment with a friend, or by listening thoughtfully, or by giving someone a smile, or by appreciating the good earth and the beauty around us; maybe by defending a truth, or by helping someone learn, or by gratefully and graciously accepting help; maybe by letting someone else know we appreciate their talents, maybe by making somebody's day a little easier. We'll remember.
Lobular Breast Cancer Early Detection Strategy

As a widower & former breast cancer husband I offer gratitude to our amazing Providence oncologist, radiologist, surgeon, triage, palliative and finally hospice nurses, hospitals, and all medical support staff. My dear wife's 7 year lobular breast cancer journey demonstrated her true courage & grace. She received compassionate & expert medical care throughout. Janet had extremely dense breast tissue and received a false negative reading in 2011 from her first needle biopsy before the positive diagnosis in 2012 of stage IV lobular breast cancer with a 7 centimeter tumor. May 30, 2012 surgery was followed by successful chemotherapy, radiation & estrogen reduction therapy. In February 2017, Janet's lobular breast cancer had metastasized into her bones, so immunotherapy, and other protocols were recommended and followed assiduously. I remain thankful for 15 months of Providence palliative care nurse weekly visits and 14 hospice nurse visits in July 2019. As a 2014-2016 volunteer, Janet created a coloring book of 125 drawings for Providence's My Little Waiting Room which can also be accessed via a link on our Community web page. For maximized early detection, I believe as soon as a needle biopsy is suggested, other biopsies should also be discussed with retesting being a possibility. 10% of all breast cancers are lobular, and they require a comprehensive detection strategy.
Janet Hughes Mersereau University of Oregon American English Institute Scholarship

A Teacher's Legacy
As a teacher, volunteer, mentor, and writer, the late Janet Hughes Mersereau, BA '69 (English), MA '71 (English), touched countless lives. Over the years, she held positions that reflected her passion for helping others, including migrant program instructor, vocational school instructor, community college instructor, and ESL teacher. She also volunteered at the Multnomah County Library in a variety of roles, as well as at St. Vincent's Hospital in Portland.
Her generous spirit endures through the Janet Hughes Mersereau Scholarship Fund at the UO's American English Institute (AEI), a fund she established in 2017.
"It's not very often that funding for international students studying English in an intensive program is available," says Cheryl A. Ernst, AEI's executive director. "This is truly a rare gift — a life-changing opportunity for our students."
Those students include Aline Valenta David, who struggled to find a school in Brazil that would accommodate her learning disabilities. In Janet, she found a financial supporter and epistolary mentor. "My desire is to be just like her, to help and transform people's lives," Valenta David says.
2021
The University of Oregon's American English institute honored my late wife by dedicating the Janet Hughes Mersereau Library.