Laura Mersereau Memorial Award Essay Contest
The Laura Mersereau Memorial Essay Contest Awards Ceremony was held on December 11, 2008 at 11:00 A.M. in the Portland City Hall Atrium. Below, you'll find links to read the top three student essay winners, my closing speech, and personal essay, the award ceremony program, and a KXL interview about the contest.
Students were asked: Why do you think high schoolers drink or take drugs; how do you resist the temptation, and how would you discourage a friend who's thinking about starting or who has started already?
Read more essays by following the school links below. (PDF Format)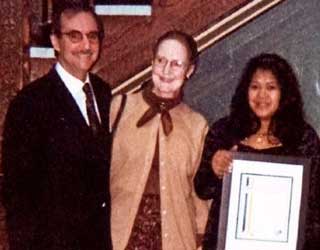 Brad and Janet with 1st place scholarship award winner, Arunee Sengchanh, from Parkrose High School.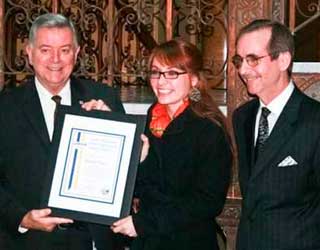 Portland's Mayor, Tom Potter, presents 1st place winner, Hilary Anne from Sandy High School, a plaque acknowledging her entry.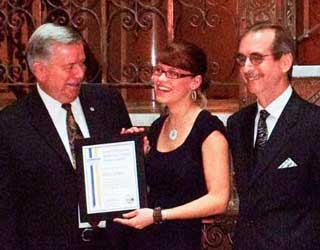 Portland's Mayor, Tom Potter, presents Honorable Mention Award Plaque to Chloe Jones from Wilson High School.
The 2008 essay contest was a huge success. Over 125 essays were submitted from 24 schools. Select each school name to read all of the essay entries (in pdf format).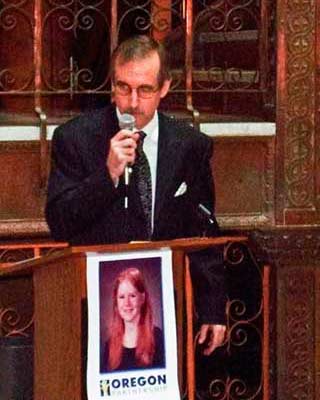 Brad delivers closing remarks honoring Laura's memory.
Summary of Student Public Policy Suggestions
I believe these collected thoughtful responses could and should be leveraged to significantly affect drug and alcohol education public policy wherever appropriate. The following is a summary of student suggestions:
Require earlier drug and alcohol health class education (freshman year or before). I believe incorporating my essay questions into the curricula would be helpful.
Require annual school-wide assemblies addressing the scope of the current drug/alcohol challenge and successful sobriety maintenance strategies.
Invite speakers including recovering adults and students.
Create a 12-step mentor program for students before they use for the first time.
Reinforce it can be "cool" to maintain personal integrity and say "no thanks" to all drug and alcohol offers (easier said than done).
Establish a high school structure that allows students to feel "cool" for maintaining sobriety (easier said than done).
Include more specific drug and alcohol information in the State Driver Manual.
Require a drug and alcohol information course before obtaining driver license.
Seek community support. Hang out with like-minded sober friends. Stand tall in their presence. Be vigilant and continue to educate self about drug and alcohol topic.