Marilyn Gifford, Terwilliger Plaza Presentation

Now for the 2019 Spirit of Giving Award.
The Spirit of Giving Award honors a donor who has made consistent cash or in-kind donations over time. For this year's winner I would add "consistent, devoted amounts of time."
This year the word "spirit" is this key to the award. Our 2019 recipient has contributed significantly to the Foundation over the years and actually received Donor of the Year award in 2003. He is truly one of the Foundation's most loyal donors and also one of the most inspirational givers of time and talent to the Plaza community.
His music fills the promenade several times a week, softly surrounding those enjoying lunch in the Duniway Restaurant, greeting members, guests and staff through the lobby and promenade, lifting everyone's spirits and brightening our days. He can also be found spreading the joy of his inspiring music in the Heights Café.
He has been a part of the Plaza community since 1997. That was the first time I met him, accompanying Alice Sedgwick on her piano (which she donated to the Plaza.) Alice was a dear friend with a sweet voice. He is a strong, humble supporter of causes throughout the Portland community to help addicts become and stay sober, in cooperation with Lines for Life, Oregon Partnership, YMCA, Union Gospel Mission, other organizations and churches. The list of the causes and services he has championed is too long to list today. Let me end with a quote by our winner from 2017.
"As a former Foundation Board member, president and currently a piano volunteer, I remain grateful for the privilege of participating in the musical dance which inherently defines abundant life at Terwilliger Plaza."
It is an honor to name our Spirit of Giving award winner, someone who walks through life surrounded by the spirits of passed loved ones and always looks positively to each day with a happy, light heart, I give you our 2019 Spirit of Giving, Brad Mersereau.
Janet's Eulogy
August 24, 2019
Ascension Episcopal Parish

Janet loved to write and read poetry. You all have her "Loving Trek" poem written for and read on our wedding day as a keepsake in your bulletin. Soon, this poem and her updated "Our Loving Trek Revisited" will be framed from a printing plate of my dear wife's beautiful handwriting and placed in the NW Portland's William Temple House Chapel. We are starting with one of her favorite's today entitled: "Barter" by Sara Teasdale.
Life has loveliness to sell
All beautiful and splendid things …
Blue waves whitened on a cliff,
Soaring fire that sways and sings,
And children's faces looking up,
Holding wonder like a cup.
Life has loveliness to sell …
Music like a curve of gold,
Scent of pine trees in the rain,
Eyes that love you, arms that hold
And, for your spirit's still delight,
Holy thoughts that star the night.
Spend all you have for loveliness …
Buy it and never count the cost;
For one white singing hour of peace,
Count many a year of strife well lost
And, for a breath of ecstasy,
Give all you have been, or could be.
To honor Janet's "Holy thoughts that star the night," it will be appropriate for me to continue her other-oriented approach with daily acts of kindness!
I would like to thank all of you here today for your love for Janet and support of the two of us. Just before Hospice-sanctioned hospitalization at St. Vincent's, for her last 3 earthly days, my sweetheart had asked me, "Where will I go when I am no longer with you?" I replied, "Heaven." Janet then said, "Yes, and I'll be free of pain." I replied "Yes, and I will join you when God chooses that my time is ready." I thank God for my dear wife's final words which were, "Hold me." I did, and I still do with all the love in my heart. After her passing, I learned that my sweetheart had donated her corneas so that others could see. The Lions VisionGift organization sent me a sacramental Remembering Heart which is now around my neck. It gently chimes against my catechism cross with a sweet tone that makes me feel as if Janet is now holding me.
A close friend recently remarked, "Everybody loved Janet" and I thought how true! In preparing for today's celebration of her passion-driven life I am realizing how many ways my sweetheart gave and received love. Janet's first teaching assignment after obtaining her Master's degree at the University of Oregon sparkled with possibility. She loved new lands and new cultures, so she accepted a teaching assignment in Wahiawa at Leileihua High School fulfilling her desire to leave the comfort of Prosser, Washinton and Eugene, Oregon. A number of her initial students became precious lifelong friends. While enjoying her new locale, she yearned for more connection with her Summer in Ireland as an ambassador in the Experiment in International Living. Janet proactively consulted the phone book, called a faculty member at the University of Hawaii, and made the acquaintance of soon to be another lifelong friend, Sister Gertrude O'Sullivan. Janet loved that Gertrude spoke with an Irish brogue which was music to her ears. Sister Gertrude, channeling the Martin Buber "I Thou" philosophy: the holy in me meets the holy in you – said to Janet, "Your appointment with God is with the next person you meet, there holiness waits." How appropriate. As her husband for almost 32 years and as a shy fellow when we courted for 6 years, I soon discovered why everybody loved Janet. She unconditionally loved everybody back. She was always genuinely interested in the other person and his or her story. She listened acutely like no other individual I have ever met, Like a good musician, she intuited when the melody required a rest, so she was silently present and would listen. Janet loved to teach English as a Second Language, a subject which required highly refined listening skills. I would watch my sweetheart's leaning in and leaning back teaching body rhythm with her students. It was a dance of imparted knowledge. When attending U.S. citizenship ceremonies for her ESL students, I loved my sweetheart all the more knowing that she had skillfully assisted in making their dreams come true.
When lobular breast cancer invaded her bones, I wrote a pledge to my forever sweetheart and placed it on her bedside table. It said that I would lovingly support her every day in every way and I would listen more effectively. I loved hearing her stories, and we would read poetry at night. We both tuned-in to the disguised blessing lesson of her lobular breast cancer first diagnosed in March of 2012. Time is precious. Maxing with love and laughter is paramount. I so enjoyed being in my dear wife's presence when we would just laugh for no reason at all, except that we were delighted with each others' company. Janet treasured her friends, and there were many. She loved to write and would decorate the letter or card in such a way that the recipient before reading the return address would know, that's a "Janet" letter and chances are I'm going to keep it. I delighted in the responsibility of mailing at least one of these gems every day of our marriage. I thank God for all the lessons about love that my dear wife taught me not through words but simply through being. I will miss her so, but am grateful as Father Phillip said to Janet on her final earthly night that God had set a place for her in heaven and that she would set a place for another.
Brad Mersereau
Peggy's Remarks
8/14/2019
I'm Janet's cousin Peggy. Janet and I were born a few months apart, and just a year after my sister Pat, in Dayton, a small farming town in SE Washington. Her father, (Pat's and my Uncle Ray) raised cattle and fixed up ranches to sell. After a few years, her family moved to Paterson, an even smaller town along the Columbia River, and later to Prosser. Her mother, our Aunt Connie, taught grade school wherever they lived. Pat and Janet and I all started out in two-room schools, which meant that we got to learn mostly at our own pace since our teacher had three other grades to deal with. That was a good thing for us because we were pretty independent little kids!
When we were little, Janet and I discovered early on that our voices sounded very much alike, and if one of us called out, "Mommy!" both of our mothers would come rushing to see what was needed. Maybe not very nice of us, but we did giggle together about it.
At the ranch at Paterson, the train track ran close behind the house, and Janet and Pat and I would eagerly anticipate the trains coming by. We'd run to wave at the engineer and enjoy the rumble and clink and clunk and – sometimes – the engineer would pull the whistle for us.
As a redhead, Janet had a real affinity for other redheads. By the time she was five or six years old, she had a Raggedy Ann doll and a Raggedy Andy, too, with mops of red hair, just as big as she was. She was a big fan of Lucille Ball on I Love Lucy. She even watched Howdy Doody!
In 1952, when Janet and I were 5 years old, Pat's and my folks built a house with a full basement that they didn't divide up right away, and we kids used it as a roller skating rink, shooting around the furnace and skimming by the posts and making quite a racket. I'm sure we spent a lot of energy that way! When Janet's family spent summers at Wallowa Lake, Janet went most evenings to the roller skating rink there, and I understand from Brad that she has also skated at The Oaks here in Portland. Dance was another activity she loved, and as kids we all took ballet, tap and gymnastics. Janet was definitely the most limber! Pat and I remember tap dancing on the kitchen linoleum with Janet and Aunt Connie – it was so much fun to practice that way! When she went to Hawaii to start teaching, Janet was eager to learn hula dancing and all she could about Hawaiian culture from her students – always looking to learn as well as teach, and enjoy time together.
Janet wished she could have a little brother or sister. That just didn't work out, but she was always glad to have cousins or friends come to visit. She especially enjoyed her cute and lively Pomeranian Sugar, and they played and danced and snuggled together. I remember our family coming to visit Janet and her parents in Prosser, and Sugar would be shut inside the house to keep her from rushing out and getting in the way of parking the car, but she'd be right behind the screen door, bouncing as high as she could to see who was there and bark her welcome to us.
As children, my sister Pat and I often asked Janet to tell us a story, and she would make something up on the spot for our entertainment. I wasn't surprised when she wrote her book
"Nobody Has A Funny Name". She used her imagination and her kindness on that one! She was a great reader from an early age, and she had all the Oz books – "The Wonderful Wizard of Oz" was just the first one, and – did you know? – there were fourteen others. She seemed to know them all quite well.
Janet always loved learning and excelled at school. She enjoyed helping others learn, especially ESL, and loved helping at the public library. She wanted everyone to achieve as much as they could, and I expect many people here benefited from her interest, encouragement, and support.
For years and years, I have been one of the lucky recipients of Janet's regular letters. We talked about what we were reading (one of our favorite authors was Jane Austen), going to the opera, our teaching, and what was going on in our lives. Nothing inflammatory, always thoughtful and well written – I will miss her letters so much. In fact, just two days after her death I saw a beautiful card I would have loved to send to her – green with beautiful luna moths that you could punch out of the card and put in your hair or use to decorate your room – she did have a love of green and things Irish.
Janet had a sense of adventure, an eagerness to explore, a positive outlook and a generous, kind nature. Her father was not the easiest of parents. She persevered through times of high pressure, pain, and way too many migraines, and kept on smiling. I was very glad when she met Brad and they made a match – they have been so good for each other and for everyone else as a team.
Janet, we will miss you and we will honor you in our own ways – maybe by stopping to enjoy a moment with a friend, or by listening thoughtfully, or by giving someone a smile, or by appreciating the good earth and the beauty around us; maybe by defending a truth, or by helping someone learn, or by gratefully and graciously accepting help; maybe by letting someone else know we appreciate their talents, maybe by making somebody's day a little easier. We'll remember.
Lobular Breast Cancer Early Detection Strategy

As a widower & former breast cancer husband I offer gratitude to our amazing Providence oncologist, radiologist, surgeon, triage, palliative and finally hospice nurses, hospitals, and all medical support staff. My dear wife's 7 year lobular breast cancer journey demonstrated her true courage & grace. She received compassionate & expert medical care throughout. Janet had extremely dense breast tissue and received a false negative reading in 2011 from her first needle biopsy before the positive diagnosis in 2012 of stage IV lobular breast cancer with a 7 centimeter tumor. May 30, 2012 surgery was followed by successful chemotherapy, radiation & estrogen reduction therapy. In February 2017, Janet's lobular breast cancer had metastasized into her bones, so immunotherapy, and other protocols were recommended and followed assiduously. I remain thankful for 15 months of Providence palliative care nurse weekly visits and 14 hospice nurse visits in July 2019. As a 2014-2016 volunteer, Janet created a coloring book of 125 drawings for My Little Waiting Room which can be accessed on our Community web page. For maximized early detection, I believe as soon as a needle biopsy is suggested, other biopsies should also be discussed with retesting being a possibility. 10% of all breast cancers are lobular, and they require a comprehensive detection strategy.
Janet Hughes Mersereau University of Oregon American English Institute Scholarship

A Teacher's Legacy
As a teacher, volunteer, mentor, and writer, the late Janet Hughes Mersereau, BA '69 (English), MA '71 (English), touched countless lives. Over the years, she held positions that reflected her passion for helping others, including migrant program instructor, vocational school instructor, community college instructor, and ESL teacher. She also volunteered at the Multnomah County Library in a variety of roles, as well as at St. Vincent's Hospital in Portland.
Her generous spirit endures through the Janet Hughes Mersereau Scholarship Fund at the UO's American English Institute (AEI), a fund she established in 2017.
"It's not very often that funding for international students studying English in an intensive program is available," says Cheryl A. Ernst, AEI's executive director. "This is truly a rare gift — a life-changing opportunity for our students."
Those students include Aline Valenta David, who struggled to find a school in Brazil that would accommodate her learning disabilities. In Janet, she found a financial supporter and epistolary mentor. "My desire is to be just like her, to help and transform people's lives," Valenta David says.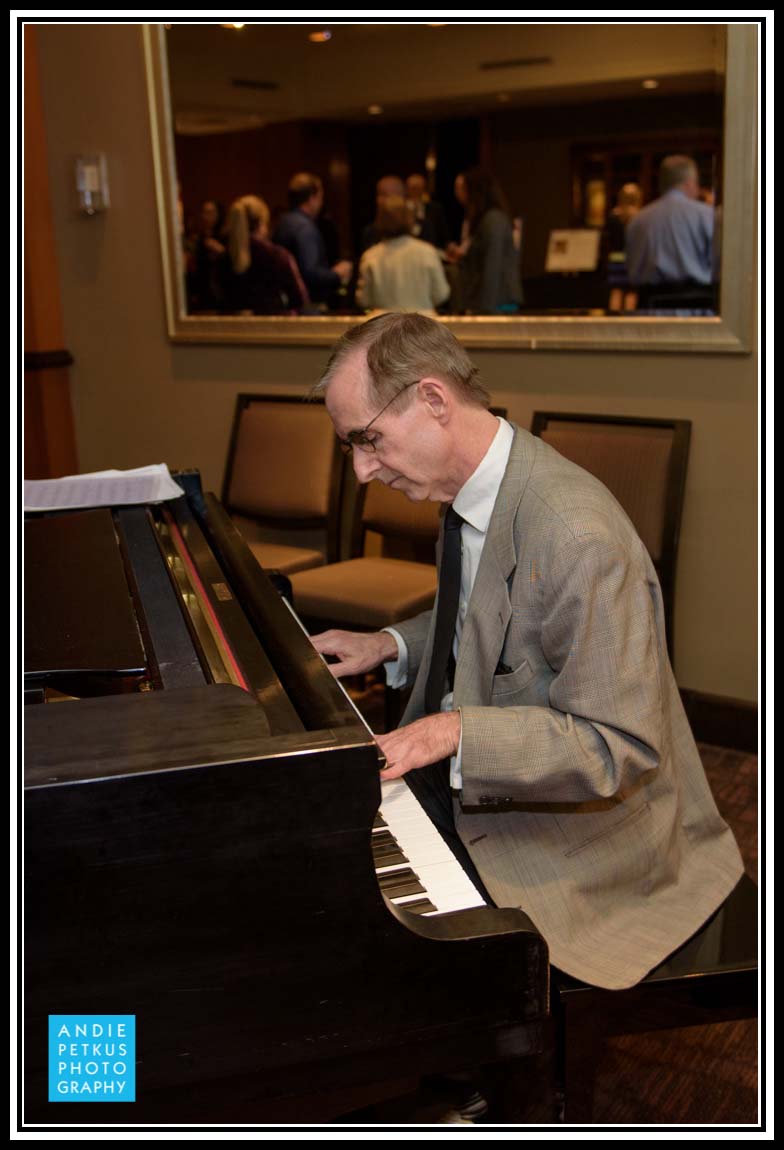 Central City Concern Laura's Place Fundraiser
An Evening of Music and Magic, April 21, 2011
Fundraiser for Letty Owings Center Laura's Place
Brad delivered remarks and played piano to honor Laura's memory at the Central City Concern Laura's Place fundraiser.
Brad's Remarks:
I am Brad Mersereau, and I am a grateful brother. Laura struggled for a quarter-century with her addiction to alcohol and died 4 months and 6 days after her 46th birthday, on June 13, 1999. I am proud that she attended AA meetings in her final six months and acknowledged her disease. Sadly her health complications could not be reversed.
Since her death, my macro-mission has been to make Laura's memory matter. To quote Ashley Judd, I am inexorably an advocate when I allow my empathy to be engaged. I am grateful for alliances with the Oregon Partnership, Union Gospel Mission, YWCA, Southeast Uplift, Portland Rescue Mission, William Temple House and Central City Concern. Laura's Place is a dream come true. I am supremely thankful that women and their children have the opportunity to transition with transparency, and live the professionally guided one-day-at-a time life that offers promise and infinite possibility.
Congruent with mission, our website affirms addiction recovery and prevention. We offer an anonymous Sobriety Anniversary page on which over 350 participants collectively celebrate 4985 sober years. 117 youngsters have offered to honor their minds, bodies, and spirits without drugs or alcohol on our Sobriety Pledge page. Joseph A. Califano Jr., through his Columbia University CASA research, documents that children who don't drink or drug before 21 have little probability for future addiction. I believe that a diversified proactive approach is the best way to honor my little sister, and I thank all Laura's Place family graduates, residents, and staff for embracing serenity through sobriety and effective teamwork. What better way to make Laura's memory matter!
A Forever "Friend of Terwilliger Plaza."
An Interview with Brad Mersereau
By Robert Grimsley, The Terwilliger Times, March 2012
What does one have to do to become "a friend of Terwilliger Plaza?"
Brad Mersereau is always introduced here as such but still remains somewhat a mystery. Nevertheless, he has given generously of his time, talent, and resources.
He became aware of the Plaza when Alice Sedgwick, a beloved Council Crest neighbor, moved here in 1997. Brad had grown up taking lessons from Portland piano teacher Sylvia Killman and playing games with Alice's son. When Brad's parents died in the early 90's he began playing duets with Alice. She was a charismatic woman who loved music, singing, and acting. When she moved to the Plaza, they continued their tradition of duets.
Brad has given very generously both personally and practically to Terwilliger Plaza. The elaborate electronic keyboard in the auditorium and the upright piano in the Terrace are gifts from Brad. You can hear him playing either instrument from time to time. He also plays Alice's grand piano which now sits in the niche just outside our Dining Room, as well as Jeanne Pendergrass's grand piano in the Plaza Café. He is the guy with the mustache.
But in the Alice-Brad tradition, nearly every Wednesday around noon he and Plaza resident Jerry Lindgren play in the auditorium for their own amusement and learning. Brad always finds playing with someone a learning experience. The two men welcome visitors who haven't come to talk.
Earlier Wednesday morning one is apt to find Brad shooting pool with Jean Cory, Beth Reid, and Becky Short.
Brad recently completed a six-year stint on the Foundation board, during which time he served two years as vice-president and one year as president.
As though he didn't have enough on his plate, he is now executive-secretary of the William Temple House Board of Directors. He proudly states that 87.5 cents of every dollar taken in is spent on the organization's mission of helping the needy.
Since his sister Laura died of complications from alcoholism, he has dedicated his major efforts towards stopping others, especially women, from falling into the same trap. Brad works closely with the YWCA, Union Gospel Mission and Central City Concern on abstinence programs aimed at separating addicts from liquor, drugs, and nicotine.
He co-founded a safe house called Laura's Place in cooperation with Central City Concern. Under the plan, addicted women, many of whom have committed crimes and lost their children, and who are in the early stages of recovery, are chosen as residents. Their children are restored to them and all are placed in the safe house at an undisclosed location where abusive spouses and former lovers cannot find them.
Brad believes that boys and girls who stay clear of injurious substances until they are 21 are less likely to become addicts. To this end he has established an anonymous registry on his web page where young people may vow never to partake until they are of age. So far 175 have done so.
Ironically, Brad played piano in cocktail lounges for many years. While he himself chose not to imbibe, he was not militant about other adults meeting after work, say, for a cocktail. However, he did not create the "jolly piano bar" where lonely drinkers rely on the pianist for their social life. He was strictly background and not a "friend."
He composes and writes the lyrics for much of the popular-style music he performs. Brad has produced several CDs, most recently a CD single "Christmas Carol" performed by several of Portland's best-known musicians. And as usual with Brad, any profit goes to charity.
Another of his compositions, "Green Rain," was heard in January on the soundtrack of Fox TV's "The Finders." Written in 1994, the lyrics to "Green Rain" were a three-person effort by Alice Sedgwick, Brad, and Brad's wife Janet.
Brad is married to the former Janet Hughes. She volunteers in the children's department of the Main Library downtown. Janet is a welcoming presence there and delights in directing the children's research for school work.
Whenever we feel as though there is no hope for this world, we can be grateful that the Mersereaus are out there providing role models.
Ascension Episcopal Parish – William Temple House Sunday Remarks
February 13, 2012

"Love is helping someone through their battles." I wanted to offer an image which would capture your attention and believe this graphic from Charles Schultz does the trick. It illustrates last week's sermon about service and today's gospel reading from St. Mark about healing. This is the central mission of William Temple House: to restore hope and renew strength in individuals and families in a welcoming and respectful atmosphere.
Established in 1965 by Rev. Canon Clarence T. Abbott, William Temple House continues to offer a unique opportunity for Christian service in the Portland-Metro region. It is named after the Archbishop of Canterbury who served the poor from 1942-1944. If you have not visited recently, I encourage families, groups, and individuals to schedule a tour with our Executive Director, Allen Hunt. Observing initial client intake procedures in the lobby is heartwarming. Dignity is key. Social Services and Counseling Staff Directors and volunteers approach each new client with the Martin Buber I / Thou approach. In other words: "Your appointment with God is with the next person you meet. There holiness waits." We serve the working poor with short term individualized plans of action, and client's lives are transformed. Counselors, volunteers, and clients are invested in the process. Specific information about our services and volunteer opportunities are in today's bulletin inserts. I will have additional handouts in the narthex (also known as the back of the church) after our service. Please check out the William Temple House website for further details. We also have a powerful 3½ minute video featuring Fr. Steve Norcross, Director of Pastoral Services, posted on our Facebook group webpage. Those who serve and those who are served benefit immeasurably at William Temple House. It is a sacred force for good.
We minister to the mind, body, and spirit of each client. During 2011 William Temple House fed more than 3,500 families through our food pantry. We are grateful for an alliance with the Oregon Food Bank. We also clothed more than 130 schoolchildren through our Children's Clothing Closet. Each child received 5 new complete head-to-toe sets of clothes. For some, this was a first experience in receiving new clothes. With the expert leadership of our Clinical Director of Counseling, Dr. Susan Bettis, William Temple House counseled over 750 individuals and families. We also served over 60,000 customers at the William Temple House Thrift Store.
We are affiliated with Episcopal Diocese of Oregon and receive no government funding. Over 85 cents of every dollar is spent directly on client services. The prayer of St. Teresa of Avila expresses our proactive implementation of Father Abbott's initial sacramental service vision: "Christ has no body now on earth but yours, no hands but yours, no feet but yours. Yours are the eyes through which Christ's compassion looks out on the world. Yours are the feet with which he is to go about doing good … and yours are the hands with which he is to bless us now."
Thank you.
Brad Mersereau
Board of Directors Secretary
Ascension Episcopal Parish – William Temple House Sunday Remarks
February 17, 2013
Good morning. I want you to close your eyes (I'm watching) and picture a safe inclusive spot in Portland, Oregon that offers, regardless of cost, 30 Monday through Friday daily counseling sessions 52 weeks each and every year for families and individuals in need. Isn't that a remarkable blessing? You may open your eyes. You have just pictured in your mind's eye a glimpse of the wonder that is William Temple House!
I believe that through the gift of grace and with a focus on service, we receive abundantly whatever we give. I further believe that we are sacramental agents of God who are meant to share the fruits of the Spirit: love, joy, forbearance, kindness, goodness, faithfulness, gentleness, and self control. The greater Portland community is blessed to have such a mission-minded action-centered expression of this philosophy in William Temple House. Founded in 1965 by Rev. Canon Clarence T. Abbott, we restore hope and renew strength in individuals and families in a welcoming and respectful atmosphere. That is our mission. I recommend that you consider scheduling a tour with our Executive Director, Allen Hunt, to discover the magic at 2023 NW Hoyt Street which is evident with clients and staff alike.
We minister to the mind, body, and spirit of our clients with counseling, food, clothing, and pastoral care. We assist folks who want to help themselves with employment, and basic Maslow needs issues. After initial assessment, every client has an individualized short-term action plan. During fiscal year 2012, we fed 3760 families and clothed 168 children. From October 2011 through June 2012, 603 families or individuals received an average of 9 counseling sessions. In that same period the William Temple House Thrift Shop provided low cost clothing and/or household items to 61,147 people. We also offered information and referral services to 9,102 individuals during our previous fiscal year. Counseling staff members seek first to understand and then be understood as they co-create doable implementation plans with their clients. I am proud to serve as the Secretary of a Board which embraces this St. Francis approach to service.
Brad Mersereau
Ascension Episcopal Parish Stewardship Remarks
November 10, 2013
Good morning … So that we can center I invite you to try a few yoga-like breaths. Let's begin by inhaling through our noses 3 beats and exhaling 6 – again … Thanks.
I am grateful for my faith and for the opportunity to practice it on Sundays at Ascension. I believe that my time here is enhanced by noticing my breath and all that is holy in this place. It is a blessing to worship consistently together and focus on our sacramental calling to be outward and visible signs of an inward and spiritual grace.
In an early sermon, our dynamic and enthusiastic Rector, Father Phillip, described a question he posed to his OES middle-school students involving 86,400 hypothetical dollars given to them daily. How would they be spent … for what and for whom? He then suggested that we all receive this daily gift from God 86,400 times, and they are called seconds. As Stewards do we spend them wisely? Do we advance His Kingdom with our choices? Phillip's questions captured my attention as I scrambled to stay focused on his profound inquiries. I believe that the members of a healthy church like ours with a thriving Sunday School and beaming parents are open to a daily relationship with our Risen Savior, Jesus Christ, in waking and sleep for all 86,400 of those seconds. Jesus always nurtures our relationship with him even if we don't reciprocate in real-time. All that we are and do emanates from the maturing growth of that primary relationship. We have daily opportunities to experience and share an abundance of the Fruits of the Spirit; love, joy, peace, kindness, long-suffering, faithfulness, gentleness, and self control.
About 6 months ago, Father Phillip introduced a 6-word description technique which intrigued me. I have been using it to summarize his Sunday Sermons in Twitter-like precis form ever since. Today I offer five 6-word descriptors for Ascension:
Grateful, Proactive, Replenishing, Spirit-Infused Community.
Worship Concludes, Service Continues Through Ascension.
We Act And Are Renewed Faithfully.
Love This Place And Its People.
Welcoming Members Sharing Our Faith Abundantly.
Thank you.
Brad Mersereau
Ascension Episcopal Parish Sunday School Artistic Lesson Plan
May 3, 2015
Tell me and I forget
Teach me and I may remember
Involve me and I learn. — Benjamin Franklin
Breathe …
Silently Listen and Pray,
Discern, Create
Teaching and learning
Always the art
Never a finish
Never a start
It breathes
It pulses
It flows from the heart
Teaching and learning
Always the art — Brad Mersereau
Dear God, Thank you for this centering opportunity in one minute of silence
to experience the wonders of your creation. May we more fully feel your presence as we notice and identify 5 sounds right here and right now so that we can get out of the way and let your Holy Spirit flow. Thank you for running the show!
Describe and demonstrate composition process for latest tune dedicated
to my father, William B. Mersereau Sr., entitled Beyond the Stars.
Heard two bells which chimed a Perfect 5th
Added another Perfect 5th
Spied a Time Magazine Cover which read
"Beyond the Stars" at my wife's chiropractor's office
4. Sang 8 note melody with first 2 intervals to office manager
5. Completed composition with chart and demo for Producer
Q & A with emphasis on the beauty of silence in creation which allows for the
Holy Spirit to guide the process.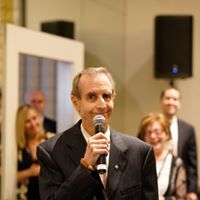 William Temple House Fork & Vine Remarks
Sentinel Hotel
October 5, 2019
Good Evening, I am Brad Mersereau and have been an energized William Temple House advocate, long range Abbott Society member and fan since my 6 years of opportunity for Board service began in 2008. After witnessing an inspiring occurrence at the front door, I left an enthusiastic phone message with Carrie Hoops a few weeks ago. She and Carrie Kaufman requested that I share it this evening as you strongly consider making your bids to support the Children's Clothing Closet. I saw a young mother and her 2 daughters departing with heads held high, new clothes, school supplies and exuding a feeling of integrity. Their body language was confident after this incredible experience with their shopping buddy volunteers. I was struck by the dignity of it all. Golden Rule authenticity is alive and well in this program. It reminded me of a favorite saying from one of my wife's dear friends, one Sister Gertrude O'Sullivan, who told Janet in the early 1970's, "Your appointment with God is with the next person you meet. There holiness waits." That's the William Temple House vibe, folks, so I encourage you to make your bid on this special opportunity near the Silent Auction. Thank you!
Lessons Learned: Creating Significant Transactions Through Community Synergy & Mutual Ownership
Ascension Episcopal Parish
October 1, 2017
Greet & Thank
Solar Eclipse Poem
My 1996 Mission Statement Inspired By Covey's 7 Habits of Highly Successful People
St. Theresa's Prayer
Dear Laura 6-14-99 & 9-19-99
Grief – Donated Laura's House Proceeds To The YWCA For Drug Alcohol Programs
Circle Of 125 Sober Years Inspired Sobriety Anniversary WebPage
Laura CD – Musical Mutual Ownership Arrival, Sojourn, Vision, Spiritus, & Au Revoir
Margie Boule Oregonian – Shared Secret Story In Service To Potentially Helping Addicts
Autumn Waltz Celebrating Life – Lighthouse, Voyager, Le Petite Enfant, Next Dance
Todd Murphy Portland Tribune – Released More Of Alcohol Secret To Help Others
Discerning Mission To Make Laura's Memory Matter
Share Story, Create Significant Transactions Through Community & Mutual Ownership
Website: www.bradmersereau.com Launch May 1, 2006 May Day = Help Me In French
Web Counter Best Decision Gave Me Ownership Laura's Mission: 24,700 Views
9 Videos & 1 Podcast
100,000 WebPage Views At Least 90 Seconds
15 Personal References – Offers Accountability & Authority
Measure / Manage Approach Mutual Ownership Documented Through 43 Letters
1st Maslow Priority Is Addiction Prevention 315 Sobriety Sobriety Pledges
Mutual Ownership Goal Updated Yearly: 25 New Sobriety Pledges Exceeded To Date
6 Drug Alcohol Refusal Skills Conversion 1 Out Of 50 = 15,750
2nd Maslow Priority Addiction Recovery
1079 Sobriety Anniversary Champions Celebrate 18,800 Clean & Sober Years
Mutual Ownership Goal Updated Yearly: 1000 New Sober Years Exceeded To Date
3rd Maslow Priority Fundraising & Matching For 9 Addiction Prevention & Recovery
We Offer Matches Generally Up Front Through Mutual Ownership Of Mission
Abundance Attracts Abundance When Vision, Mission, and Intention Align
Co Sponsored Lines For Life Laura Essay Contest Re: Drug & Alcohol Refusal-Skills
Aruni / Janet "A Living Miracle"
Laura's Place Central City Concern Patience – Shared Carole Romm's Vision – Piano
Creating Order: Daily General Journals, Gratitude Journals, 5 Blessings A Day Journal
Learned: If I Write It I Become It: Expect Nothing, Receive Gracefully, Share More
Website Estate Legacy Goals Will Continue Thanks To Steward-Minded Friends
St Francis Prayer Read Together
Q & A
Hosford Middle School Career Day Presentation
April 26, 2007
Investment 101 Outline
Dow Jones Industrial Average gauges performance of 30 representative widely held public companies.
May 26, 1896   40.94
April 26, 2007 13,000+
Rule of 72's
Divide 72 by interest rate = # of years to double
Example: $50,000 becomes $100,000 in 9 years with a compound interest rate of 8%
Example: Ages 14-17 4 summer jobs x $2000 = $8000
Stash $8000 in a Roth IRA for 49 years and do not touch principal
Through the power of compound interest the original amount is now over $1,000,000 at age 66 average stock market return about 10% x 7 years = 7 doubles in 49 years!
Successful Investment Strategies
Acquire appreciable assets.
Spend less than you earn. (Current national savings rate is -.7%. In 1960 it was 7.5%)
Keep spending journal to track expenses.
Discuss spending journal with family and friends. (Fine-tune budget and align with goals.)
Invest in yourself through education.
Pay yourself first consistently.
Dream it, Plan it, Write it, Do it!
Janet and I met Magic Johnson March 19, 2007
at the Simon Benson Award Dinner.
At a subsequent event, Magic checks out my Laura CD … a face in the misty light.