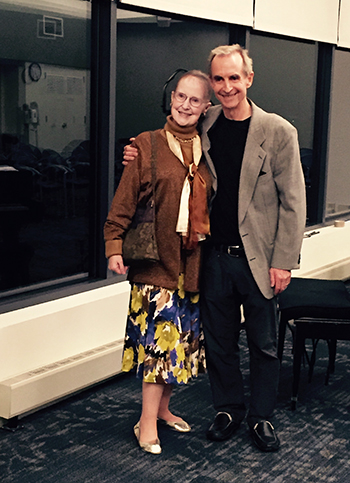 Donor Spotlight
The William Bradford and Janet Hughes Mersereau Scholarship
Brad and Janet Mersereau have built a legacy around their support of artistry and community impact at Portland State University.
Married for 32 years, PSU alumnus Brad and his beloved late wife Janet, have positively changed the lives of thousands of people in the Portland community. Their dedication to providing access to music education, advancing literacy and supporting others on their journey through recovery to sobriety is demonstrated through their innovative philanthropy.
As of 2020, the William Bradford and Janet Hughes Mersereau Jazz Scholarship in the PSU School of Music & Theater has supported 19 highly talented and motivated seniors in jazz and composition, most of whom have launched successful professional careers in music. Brad, an accomplished pianist and composer with decades of TV and movie placements, is a graduate of Portland State's composition program, and appreciates that their scholarship recipients "are clear and intentional and know exactly what they want – and how they'll give back."
Memories of Little Sister Inspire Musician to Help Women
Margie Boule, The Oregonian, Sunday, December 17, 2000
Listen to Kevin Christofferson read the article as you follow along.
You hold the CD in your hand and feel as if you're holding somebody's whole life, right there in your palm. In a way, you are.
The cover is red; dead center is an old black-and-white 1950s snapshot of a little boy and girl. The little girl's name was Laura, and that's the name of the CD. The music inside tells Laura's story better than words ever could, but I'll try.
Back when the photo was taken, Brad and Laura Mersereau were 4 and 2 years old. Already they were close. And through the rocky decades that followed, the brother and sister stayed close. "She had strawberry-blond hair and a lot of freckles," says Brad. " She had a lot of friends. She embraced life. She giggled a lot."
Brad says they grew up in an alcoholic household. "My father stopped drinking at 50. He got sober just in the nick of time, and for his last 26 years he was clean and sober. I'm extremely proud of him for having stopped. I told him that before he died, and he thanked me."
Brad excelled at his studies, but learning came harder for Laura. "But there was a balance, because her people skills were so good."
At 19, Laura began to use drugs. "She was introduced to LSD by an older fellow, unfortunately," says Brad. "It changed her." Brad was there for his sister when she came home one night, high on LSD. "I stayed up with her all night. I tried to help, but I never have used drugs. I knew she was scared out of her mind at the images, though. She needed to have somebody tell her it was all right and it would pass. But in her case I don't believe she was ever the same. So it didn't pass."
Brad doesn't know when Laura started drinking. "It was secretive. It really wasn't completely clear until about the last 10 years of her life." Laura functioned pretty well in spite of her drinking, getting her nurses' aide certification, marrying a man she truly loved.
Brad married as well, and launched a career as a pianist in Portland, playing in local clubs and hotels. His life was going well.
But Laura's was not. Brad saw that both Laura and her husband were drinking a lot. "They loved one another, but it was not your normal story of love. I'd see them walking hand in hand in Northwest Portland. They sustained one another, and some of the ways they did were healthy. But Laura was a bubbling, effervescent, gregarious human being. Over the years the alcohol took the giggles away."
Brad says he talked to Laura about her drinking but she'd deny she had a problem. As the years went by, he became more direct. "The signs were there. She had the shaking. It was very pronounced. Holding a cup of coffee was a bit of a struggle."
By the mid-1990s Laura's husband was facing serious medical consequences of drinking. Brad arranged a novel intervention. "They loved limousines so I had a black limo pick him up and take him to see a doctor who told him he still had time, he could live, but he had to quit drinking immediately. He heard the words but he chose not to follow them. And he died."
Laura was devastated. Instead of quitting alcohol, as Brad hoped she would, she tried to lose her sorrow in drink. And then her health began to fail. Laura was in her mid-40s and was hospitalized twice in 18 months for alcohol-related problems.
Brad became insistent: she had to stop drinking. "Sometimes she'd scream and yell and everything, but we had this mantra. I would say to her, 'What are we trying to do here, Laura?' and she would respond, 'We are trying to keep me alive.' She knew she could call me or two or three other people in the middle of the night. Our commitment was to keep her alive. The last 18 months of her life that's the way it was."
In early 1999 Laura was hospitalized again. "This time her doctors said 'You have to stop. No ifs, ands, or buts. If you want to live, you must stop.'"
"I think she was sober."
Laura stopped drinking. "What I'm most proud of her for, is that she accepted enough of my help that she could go with me to an AA meeting. I consider it a miracle that she could go in front of a 12-step group and say 'I'm an alcoholic.' " For the next six months Laura stayed clean.
"I knew all the dances of denial," says Brad, "and I think she was sober."
Their relationship had been rocky, but Brad had never let go of his little sister. "It's tricky to be parental and still keep the lines of communication open. But I have a card she sent me that says 'Thank-you for being my brother. Love, Laura.' It's very important to me, to have that."
Laura was sober, but the damage had been done. She had bad tremors and health problems. On June 13, 1999, Laura got dressed up to go out for the evening. She put on her high heels, sat down on her couch, and died. She was 46.
"They did an autopsy," says Brad. "The medical examiner said that it was a perforated gastric ulcer. The toxic shock killed her very quickly. It was brought on by the drinking."
Helping Women Like Laura
Brad was numb for a while after Laura died. He'd tried so hard to keep her alive; some part of him felt he'd failed as a brother. He arranged for a special service for Laura at his church. It didn't seem like enough.
Slowly, Brad began to see how he would honor his sister, help other women like her, and preserve her memory.
First he gave Laura's home to the YWCA and asked the organization to sell it and use the proceeds for a program they call Laura's House. "We established two things," says Jean DeMaster, director of the YWCA. "One is alcohol and drug-free housing for women… the other is… an alcohol and drug counselor who will help reach out to women in the Y programs. I was touched at how much Brad cared for his sister. We're very grateful to him."
But for Brad, the best way to honor his sister's life was with music. Brad began to compose songs for Laura. "The musical theme is… different seasons, or cycles in the life process. 'Sunrise' is just the sound of a sax and human voices; it sounds like a beginning. 'Arrival' has interplay between vibraphone and piano." The eight-song cycle ends with 'Au Revoir.' "It's the saddest," says Brad. "It's about saying goodbye."
Brad's songs lift and pull you away, to a place where Laura laughs again, sighs again, grieves once more. There are songs on the album written by other composers, too. Some are standards, like 'Laura.' Brad's producer invited some of Portland's most talented musicians to perform, and Brad told them Laura's story before each recording session began. When it was time for Brad to sing for his sister, he placed a photograph of Laura on his music stand.
"I'm a pianist, not a singer," says Brad. "But I'd been practicing. It came out OK."
The CD is on sale at Music Millennium, at the YWCA, at The Children's Store, or by e-mail at bmersereau@comcast.net. It's $15. Proceeds will go to Laura's House at the YWCA, for alcohol and drug education. "You can do grief work playing music," says Brad, "but I knew I needed to do more than play a tune or two about my sister on the job. Musically this CD was about teamwork; there's a common vision. It speaks to what this project is about, which is the opposite of denial."
Brad's sister Laura died from drink. He loved her all her life, he always will. And he wants the world to know that.
© 2000 The Oregonian
Changing Lives to Honor Sister's Memory
Tom Hallman Jr., The Oregonian | OregonLive, March 17, 2019
Because of a hard-core Portland alcoholic who died long ago, Kiera Zehner has a place to land while she reclaims her own life, one she acknowledges was slipping away because of drugs.
For the past six months, Zehner, 27, and her son, David, 1, have been living in Laura's Place.
The six-unit Northeast Portland apartment complex sits tucked away on a quiet residential street, created for women recovering from substance abuse. They live rent-free in furnished apartments. Many of them bring their children with them. They stay for up to nine months to plot what they want out of life and what steps they need to take to reach their goals.
"Without this place, I would have slipped up," Zehner said as she stood in the middle of the spacious studio.
She knows her path will require vigilance and perseverance, given her background. She's well aware of the temptations and pressures that exist in the world she's working to leave behind.
The time in Laura's Place has convinced Zehner that she's turned a corner. Not just for herself, but for her son.
Next month, she'll move into her own apartment across town. She's figuring out child care, has a line on a job and plans to study to become a drug counselor so she can help people like herself.
The next tenant in the unit will be a woman Zehner met in treatment. That lineage, she said, makes her feel good.
Each woman to occupy the apartment over the years has left a bit of her spirit behind to fortify those who follow. When they feel doubt, and Zehner said all do, they can draw on the knowledge that a fellow traveler lived in the room and believed in the possibility of change.
"The woman before me left me food and clothes for my baby," Zehner said. "I plan to do the same thing. It's a way to pay back what was done for me. No one can do this alone."
Zehner said she knows nothing of the building's history.
Few people do.
What a Loss
Laura Mersereau grew up in Southwest Portland. She attended Wilson High School. A yearbook photo shows a redheaded girl with freckles. Classmates knew her as the outgoing girl with friends in every classroom.
But the family had a secret. Her father, Bill, was an alcoholic.
She, too, became one.
"It was like watching a slow suicide," said her brother, Brad Mersereau. "She died at 46 from alcoholism."
To honor her memory, and what her life could have been had she accepted help, her brother gave $141,000 to Central City Concern as a lead gift to create what became Laura's Place.
Since opening in 2009, more than 125 women and 90 children have called the complex home.
Central City picks up the tab for annual ongoing costs. Women are eligible for placement after receiving treatment at the Letty Owings Center, a Central City program focused on treating mothers for drug addiction and alcoholism. Women and their children live at the center, which has 29 beds. Statewide, there are only 78 beds, said Karen Kern, senior director of substance use disorder services at Letty Owings.
"There is a huge need," Kern said. "We have a waiting list of women who need a bed."
Counselors help women in the program learn what they've identified as essential life skills: budgeting, meal planning, cooking, communication and how to be a good parent. When they've graduated, they're eligible to move to Laura's Place.
"It's a dance for us," Kern said. "We have to figure out who is leaving Letty Owings and when, and then when a space will be opening at Laura's Place."
Once in an apartment, the women are required to be responsible. Vowing to stay clean and sober isn't enough. They undergo weekly urinalysis tests. A case manager checks in with them to talk about issues that could derail any chance of moving forward.
That's exactly what Brad Mersereau hoped for.
At times, he thought his sister was going to make it. She married in the late 1970s, changing her last name to Pressnall, but was consumed by the demons that had plagued her for so long.
After she died in 1999, her brother learned about her death when a relative called. As a way to try to come to grips with it, he wrote a letter to his sister.
"He said you had died, and my first reaction was disbelief. How could this be? You had attended an AA meeting with me recently, and admitted you were an alcoholic in recovery. I thought you had been sober for 6 months.
"As it began to dawn on me, I was the only one left from our family of origin to deal with your disease, I felt disheartened and totally numb inside.
"We learned from doctors in the following days you sustained a perforated ulcer causing toxic peritonitis. You put on high heels but never made it out of your house the evening of June 13th. A quarter-century of hard drinking caused you to die prematurely 4 months and 6 days after your 46th birthday. The addictive path was your choice at every turn, but what a loss."
Three years later, Mersereau wanted to do more than write letters.
"I missed Laura and I wanted her memory to matter," he said. "The best thing I could do was to help women avoid what Laura went through."
That was the start of Laura's Place.
Life Can Change
The apartments have helped clients move to be self-sufficient, Kern said.
"Most people have someone in their lives touched by addiction or alcohol," she said. "What we do, and what Laura's Place makes possible, is break the cycle and reduce the impact on children."
Mersereau said his father made what he called a heroic decision to dry out and lived a clean and sober life until he died in 1991. His father would be proud that his daughter's memory is kept alive through women battling to change their lives.
And it's not easy.
No program will work, Zehner said, unless the addict hits bottom and looks clearly at her life and the future if things don't change.
Zehner said she'd been using meth and living, while pregnant, in a homeless shelter.
That was bottom.
After delivering her baby, Zehner entered Letty Owings.
"My clean date is 8/28/17," she said.
This past week, she looked around her apartment as she packed things for the trip to her new place.
"When I leave it will be a reminder to me that a life can change," she said. "That's what I'll take with me."
© 2019 The Oregonian | OregonLive
A Love Song for Laura
Musician gives more than $700,000 in sister's memory
Todd Murphy, The Portland Tribune, Tuesday, December 27, 2005
When his sister Laura died after a lifetime of drug and alcohol addiction, pianist Brad Mersereau began to give away hundreds of thousands of dollars to help addicts get and stay sober. He donates his money and time to heal the heartbreak and to keep alive the memory of his little sister.
She was the gregarious one, the bouncy one. Laura Mersereau—two and a half years younger than her more bookish and introspective brother—was full of life. And smiles. And making friends instantaneously, Brad Mersereau remembers.
But by the time his younger sister had reached her late teens, drugs and alcohol had sapped her of her gregariousness—her spirit.
"The sparkle went out of her eyes," Brad Mersereau says. "Something left. And that saddened me."
And some three decades after that, Laura Mersereau was gone.
It's been six years since Laura died, at age 46, after a lifetime of alcohol and drug abuse. In essence, she drank herself to death, Brad Mersereau says. And it's been a bit less than six years that her older brother—tears still welling in his eyes when he talks about his sister—has been on a mission. The mission: to honor the memory of his little sister by giving away money—lots and lots of money—to agencies that try to help people with alcohol and drug addictions.
In the last six years, Brad Mersereau—an unassuming musician and composer who inherited some money from his parents and now plays piano about two nights a week at the Benson Hotel's London Grill—has given away, with his wife, more than $700,000. The money has gone entirely to local nonprofits that work with alcoholics and drug addicts.
The latest gift, Brad and Janet Mersereau's largest single gift, was the more than $310,000 in stock they gave last spring to the Union Gospel Mission of Portland to help it construct a five-story building next to the mission's current building on the corner of Northwest Third Avenue and West Burnside Street.
The mission's new building will allow it to more than double the number of people it serves—from about 30 to about 75—in its LifeChange program. LifeChange is a long-term addiction treatment program in which participants live and work together as they help each other stay sober.
The Mersereaus made their donation in March, when Union Gospel Mission's $7 million fundraising drive for the building had largely stalled a couple of million dollars short, says Kevin Campbell, the mission's finance director.
"We were really a highly fatigued organization—not knowing how we were going to finish raising the funds," Campbell says. "We were really out of ideas."
The Mersereaus' gift, for which Brad recommended that the mission seek matching contributions, came about the time the mission learned its project would be eligible for some funding through special government tax credits.
"Brad's was another gift—a miracle really—that we could see clearly that God was doing something," Campbell says. "Because we had no ideas—no way—really, to get to the finish line. It gave us new life."
The mission's fundraising drive is now complete. Construction on the building is scheduled to begin next month and be completed by late 2006, Campbell says.
'It just felt right'
Brad Mersereau often makes contributions suggesting—but not requiring—that the organization match his contribution through other fundraising. "It makes me feel better if I'm part of a team that helps to raise funds for people who absolutely mean business about helping people who want to help themselves," he says.
And he keeps track of the fundraising successes; so far, more than $500,000 of the Mersereaus' contributions have been matched through other fundraising, he says. That means more than $1.2 million has been invested in helping addicts in his sister's memory, he says.
He says he had been looking for a "big match opportunity" early last year when he read about the mission's project. "I did research… but it just felt right," he says.
Mersereau's first large gift was even more directly related to his sister. In charge of his sister's estate after she died in June 1999, Mersereau decided that the proceeds from the sale of her Northwest Portland house should be used to help other addicts. He gave the proceeds to the YWCA to create an endowment—called Laura's House.
The Y uses interest from the endowment to help pay for programs for women trying to recover from addictions and, with Mersereau's permission, has used part of the original donation to pay for an on-staff drug and alcohol counselor, says Adella Macdonald, executive director of the YWCA of Greater Portland.
"It seemed very logical and healing to me to do something like that," Mersereau says of the YWCA gift. "I suppose it snowballed from there."
Inheritance funds dreams
When Mersereau's parents died in the early 1990s, he inherited a "very substantial" sum of money. His father was a stockbroker—and an alcoholic who stayed sober the last 26 years of his life, Mersereau says. "I'm extremely proud of him," Mersereau says.
The inheritance gave Mersereau the freedom to pursue the full-time music career he had always wanted; he became a regular piano player at the Hotel Vintage Plaza downtown in the early 1990s, and started playing at the Benson's London Grill a few years ago.
"I believe I'm an adequate piano player," he says over breakfast one weekday morning at the London Grill. "But there are killer piano players in this town."
The inheritance also meant that he and his wife would be donating a lot of money in Laura's memory.
In addition to the Y donation, the Mersereaus have given a large contribution to the Hope House, an addiction treatment program formerly sponsored by a church in North Portland, and gave $140,000 to Central City Concern for a five-bedroom drug- and alcohol-free house, with an in-house counselor.
But the Mersereaus give more than money, says the Union Gospel Mission's Campbell. Brad Mersereau often shows up at the mission's "graduations" for treatment participants who successfully complete LifeChange.
"Just to see him, in little ways and everyday ways, trying to be a part of this, just really giving his heart to this… I wish there were a dozen Brad Mersereaus out there," Campbell says.
"All I'm interested in (is supporting) the programs that are the best chance for addicts to get the help they so desperately need," Mersereau says. " I believe if you take energy, time and money—the sum will be more than the parts."
Charity, music help healing
The YWCA's Macdonald says she often sees people contributing money and time to causes that have touched their families.
"I think it's human nature to, if we can, prevent other people from going through the same grief that we've gone through," she says. " I think it does our heart good, where our heart is really broken, to think we've done something positive in light of a great tragedy."
Still, Macdonald says, the level of commitment from Brad and Janet Mersereau "is quite extraordinary."
Brad Mersereau also has tried to remember his sister through his music. The year after Laura died, he released a jazz album called "Laura"—some of the songs he composed for her, others were jazz standards. He paid for some of the Portland region's top jazz musicians to play on the album, and he played piano on a few of the songs.
Proceeds from the album went to the YWCA, he says.
Just last year, Mersereau released another album, called "Autumn Waltz," the proceeds from it will go to the Union Gospel Mission.
Lives, letters leave a legacy
For most of her life, Mersereau says, his sister argued with him about whether she had an alcohol problem. But toward the end, six months before she died, she went to an Alcoholics Anonymous meeting with him and acknowledged to the group that she was an alcoholic, Mersereau says.
"Her biggest gift to me, and herself, was going up in front of a group and admitting it," he says.
Mersereau says part of the reason for his continual focus on his sister's story is so others can hear it—and understand they can make better decisions. "They can change their lives," he says. "That makes my sister's life matter."
And that focus—on affecting lives, one at a time—is reflected in Mersereau's one request from the people helped by his donations.
He asks that at least one addiction treatment participant from each group he supports write a letter—with copies sent to him, sent to the agency and kept by the participant— explaining why they want to stay sober for the rest of their lives.
He asks for the letters so people can read them when they are challenged by their addictions. And remember why it's worth it to stay sober.
He has 15 letters so far. Mersereau says. "My goal is to have 75 of those before I die."
© 2005 The Portland Tribune
Churches can help in healing addiction, expert tells clergy
Mark Ohlson, The Oregon Episcopal Church News, Vol. 98 No. 6 September 2006
"Addiction is a disease, not a sin." That was the take-home message for attendees at a May 23 "Consultation on Building Addiction Team Ministries in Your Congregation" workshop presented by Ecumenical Ministries of Oregon (EMO) and the Rush Center of the Johnson Institute. The Rush Center is a Washington, DC-based agency that has been delivering effective prevention, treatment, and recovery programs to institutions and individuals for the past 40 years.
Those who gathered May 23 at Westminster Presbyterian, Portland, to discuss addiction prevention and recovery came from as broad a spectrum of Christian denominations as the social and economic spectrum of persons suffering the challenges of addiction.
The one-day seminar for clergy and laity focused on the importance of the faith community's involvement in addiction prevention and recovery. A look at practical programs that work was the subject discussed by guest speaker Trish Merrill, a registered nurse and director of the Rush Center's Austin, TX chapter, which provides tools, training, and conferencing services for individual congregations or groups of congregations.
"Addiction has touched one in four of us in several possible ways," said Rush. "Yet, nobody in churches talks about recovery," said Merrill.
One of the six featured speakers, the Rev. JoAnn Leach, associate rector of Christ Church, Lake Oswego, and chair of the Diocesan Recovery Commission, told attendees: "God has created programs and community to help those in addiction and it's up to us to use them. Addiction is a disease, not a sin."
"Churches need to make healing an important ministry," added Merrill. "This goes for all who suffer from addiction, not just teens. Studies now show a huge increase of alcohol abuse in people age fifty and older. We can do something about this growing problem: Educate, reduce stigma, offer hope, and especially help."
During the afternoon portion of the seminar, practical steps were outlined as to how a church or groups of churches can start on the road to addiction prevention and recovery. These were key points on Merrill's addiction recovery road map:
Build Congregational Support.
Request the "Call to Action Kit" which is available through the Rush Center www.rushcenter.org.
Equip the Leadership.
Undertake leadership training for clergy and laity. Do a congregational survey and inventory.
Develop the Team.
Attend team training featuring an action plan, education plan, and community involvement. Rush Center teams, said Merrill, will travel to a local community to help churches undertake this process and build support for recovery programs based on faith. It is through the partnership of clergy and lay people that people with addictions can be nurtured and honored. There is a modest charge for the products available in undertaking the process.
At the end of the workshop, David Leslie, EMO executive director, concluded by saying: "Experts on any issue, including addiction prevention and recovery, are sitting in the pews of our churches. Together we can do something about the problem."
Grieving brother's website aims to help addicts and their families
When Brad Mersereau's sister, Laura, 46, died in 1999 from a perforated gastric ulcer (one of the side effects of a 25-year struggle with alcoholism), the parishioner at Ascension, Portland, founded a website in her memory to help people still struggling with addiction, people in recovery, and the families of both.
This message greets visitors to his website: "Welcome. Our mission in drug and alcohol resources is to have the memory of my sister, Laura, matter. Sadly, Laura made choices that led to her death. It was a slow suicide. Arm yourself with knowledge. Learn about social and genetic factors. Communicate your thoughts and feelings in a loving, trusting environment. Avoid family secrets. Pursue your passions."
Mersereau, a jazz pianist, collaborated with well-known Portland musicians, including Ron Steen and Dan Balmer, to record "Laura," a CD dedicated to his sister's memory. The proceeds from the sale of the CD go to support the Portland YWCA's "Laura House Fund," which assists women wishing to break free of addiction through transitional housing, education, and resources for lifestyle changes.
In addition to maintaining his website, Mersereau and his wife, Janet, have given away about $700,000 of their own money, an inheritance, to local nonprofits that work with alcoholics and drug addicts. His donations have been matched by about $600,000 in contributions from individuals for a total of $1.3 million going to addiction services in the Portland area. Brad Mersereau's website is www.bradmersereau.com.
National Drug Czar treks to SE Portland; lauds 'meth store' makeover
David F. Ashton, East PDX News, July 23, 2006
See how a group of dedicated neighbors worked with local, regional and national public safety organizations to turn a run-down SE Portland eyesore into a community center…
Neighbors thought it was odd — the Wake Up drive-through coffee shop at 5633 SE Division St. didn't seem to serve coffee; the deli didn't stock much food.
This building isn't in a seedy part of town. It stands directly across the street from the Atkinson School.
"There was no regular business here," neighborhood leader Paul Leistner told us, "so neighbors knew there was something shady going on. Eventually police and drug enforcement officers started surveillance, sometimes using the grade school's teacher's lounge."
The police and sheriff's office did take notice when they observed the owners of the shop selling large amounts of pseudoephedrine, a key ingredient of methamphetamine.
Eventually, the shop was raided and closed down, and the property was seized by the US Federal Marshall's office.
Neighbors conceive take-over plan
In November of 2004, neighbors hatched an idea to turn this property into a community center. That dream came true when the building, renamed Atkinson/Tabor Community Commons, was transferred to the control of Southeast Uplift, the neighborhood coalition for the area on June 6.
"Southeast Uplift is administering this building on behalf of Mt. Tabor Neighborhood Association, South Tabor Neighborhood Association, and Atkinson Elementary PTA," Leistner said, at a clean-up work-party held at the building on July 8.
Pausing a moment from his chore of pulling out a broken sheet glass window, Justin Leonard, newly-elected president of Mt Tabor Neighborhood Association, said that Leistner is great inspiration. "I'm here to support this effort. I think it is unprecedented how our community has come together behind this project. Collectively, we presented the plan for turning this former drug property into a community center to local, state and federal governmental agencies. With their support, we've done it. It's going to be a community center; a community hub."
Federal 'Drug Czar' gets first-hand look
At their July 20 open house, the old building had been cleaned out, painted and made ready to receive its first guests. With the trash removed, the building seems surprisingly roomy; and, with the walls painted, it is bright and cheery.
Representatives from the community, city, and law enforcement gathered for a community conversation led by Southeast Uplift executive director Cece Hughley Noel, as they welcomed John P. Walters, Director, National Drug Control Policy.
We asked Walters why he'd traveled from Washington D.C. to tour a little building in southeast Portland.
He replied, "This is an important example of what a community, committed to a goal, can do. I'm here to learn lessons of what you think worked well. We'd like to make this project an example of how a former neighborhood problem can be turned into a potential asset. We'll show what you have done to others, who will benefit by replicating your efforts in a way unique to their community."
Paul Leistner recounted problems at the site dating back to the 1980s — including drug dealing, laundering food stamps, incidents of violence, and selling cigarettes to minors. "The most recent owner tried to get a liquor license so he could put in video poker machines, and perhaps nude dancers. When that didn't work out, he realized he could get pseudoephedrine from Canada, and resell it locally. It was his undoing."
Neighbors told Walters how happy they were that they could make this former eyesore and crime den into a place that will both help the community and improve the quality of life in the neighborhood.
'Angel' helps volunteers raise $45,000
These neighbors didn't simply get the keys handed to them. Even with the back taxes on the property forgiven, they still needed to raise $45,000 to refund the U.S. Marshall's costs, to provide insurance, to pay utilities, and to cover other expenses. Portland's Bureau of Environmental Services is working with the group to reduce potential problems created by five large buried tanks that remain on the site from the time the place was a gas station.
Leistner told us Pearl Bakery, New Seasons Market, and Mt. Tabor Realty donated substantially to the project, as did neighbors — but that only raised half of funds required. "Then, Brad Mersereau wrote a check for $24,000 to make up difference."
At the community meeting, Mersereau told the Walters, "I considered this an opportunity to honor the memory of my sister, who died of alcohol. For the past six years, I've been doing a number of matching opportunities that raise awareness of drug and alcohol prevention, sobriety, and resources. We can do a lot to make an impact against something that is pernicious in society: Drugs and alcohol."
Local leaders laud the community effort
"The federal government did something right here!" exclaimed Multnomah County Sheriff Bernie Giusto. "This is a reinvestment that will help the community for years to come."
Brian Santo, outgoing president of Atkinson's PTA said, "With the school right across the street, it's great to have this place for kids."
Portland's new Southeast Precinct Commander Derrick Foxworth said, "This is a good example of how community policing works. Working together, community members, businesses and organizations are reducing crime and fear of crime and improving livability."
"This is the fruition of a public/private partnership," added Portland City Commissioner Sam Adams. "Together, they not only shut down a meth distribution and stolen property center — but also provided for a great community use. I'm really happy for the successful outcome of this project that will help these great Inner Southeast Portland neighborhoods."
Walters' commendation
As the community discussion wrapped up, Walters finished by telling the group, "This is an example of how citizens can turn a threat it into an asset. In reality, it isn't the government that makes us safer in our communities — it is each of you here today."
How you can help
There is still work to be done to finish this new community center. To learn how you can help, contact SE Uplift at (503) 232-0010 or contact Paul Lesitner at paulamy@teleport.com.
Brad and Janet Mersereau challenge donors to support Oregon Partnership's Crisis Lines
Oregon Partnership's OP Link Newsletter, Winter 2006
Brad Mersereau is a man with a mission: keeping his sister's memory alive by supporting programs that give alcoholics and addicts the chance to regain control of their lives and believe in the future. Brad is a talented musician and an accomplished pianist. He has collaborated with well known Portland musicians, including Tom Grant, to produce two CDs with all proceeds benefiting comprehensive drug and alcohol sobriety programs.
Oregon Partnership is excited to share the news that Brad and his wife Janet, upon learning that Oregon Partnership's Crisis Lines are in danger of closing due to lack of funding, stepped up and offered OP a $10,000 challenge gift in support of our Crisis Lines Services. That's where you come in. Their gift and yours will help us to meet our funding goal of $150,000 for the Crisis Lines.
Did you know that Oregon has the 6th highest suicide rate in America, and youth suicide is the 2nd leading cause of death among 10-24 year olds in Oregon? In the past two years, methamphetamine calls have surpassed marijuana and all other drugs except alcohol as the leading reason for calls to our alcohol and drug Crisis Lines. At the same time, funding for OP's crisis referral services has diminished over 50%.
OP Crisis Lines also provide 24-7 suicide intervention, treatment referral and crisis counseling 365 days a year to residents across Oregon.
To make a matching gift to the Mersereau's $10,000 challenge, log on to the Oregon Partnership website at www.orpartnership.org or use the donation envelope included with this publication.
Oregon Partnership appreciates your generosity and wishes you and your family a happy and peaceful holiday season.
Old drug den becomes neighbors' cup of tea
Kimberly A.C. Wilson, The Oregonian, inPortland, Thursday, March 1, 2007
Only the sign remains unaltered at the former Drive Thru Wake Up coffee shop in Southeast.
The concrete building stands gutted. Jackhammered chunks of pavement fill the back lot. And a line of marked birch trees, which snarl the power lines, are set to come down this weekend.
Slowly, change is overtaking 5633 S.E. Division St., site of the planned Atkinson/Tabor Community Commons. In 2003, the business owner was charged with dispensing pseudoephedrine — rather than coffee — out of the Drive Thru, across the street from Atkinson Elementary School. Pseudoephedrine is a prime ingredient in making meth.
Last year, neighbors collected money from area businesses and residents to buy the seized property from the U.S. Marshals Service. A single mom launched Cafe au Play, a not-for-profit cafe for parents and toddlers that will replace the former drug den.
Now the hard part begins: Applying for grants. Environmental cleanup. And plugging in volunteers with expertise in architecture, economics, green construction, landscaping, fundraising, community building, child and family services and more. Here are a few of the central players in the effort to transform the 14,000-square-foot lot and 900-square-foot building: Paul Leistner, 47: From his kitchen window, Leistner can see what he calls "a small lot that has to accommodate a lot of dreams."
As chairman of Southeast Uplift's board of directors, ex-research director for the City Club and doctoral candidate in urban studies at Portland State, he brings a wealth of experience shepherding community-based projects. This one has attracted scores of talented volunteers, he says.
"There's the people who are focused on the elementary school and education. There's the really cool environmental stuff that we'll be doing there. There's the rehabilitation of a drug property that has engaged some people. There's the democratic ownership part, a chance to shape something that's right in their own community," Leistner says. "At the root, people want a place to gather." Amy Gredler, 46: "It's the essence of why I live in inner Southeast Portland — I want the neighborhood to work," says Gredler, who moved to Mount Tabor with husband Marc Smiley when sons Sam and Tucker, now 13 and 9, were younger so the boys could walk to school.
Gredler has worked as a United Way youth volunteer coordinator, served on the board of Bradley-Angle House and, for 15 years, managed needle exchange and HIV/hepatitis C outreach for Multnomah County's Health Department.
"I spend a lot of time fretting, despairing sometimes of all the times our children are isolated: listening to their iPods, watching TV. There's the chance for them to connect in a new way with their community. Maybe it's not a project that brings peace to the world, but it may to our neighborhood." Kristin Heying, 37: Heying, a former schoolteacher who works part time for an arts nonprofit, is the force behind the self-sustaining coffeehouse that would anchor the commons.
Over the past two years, she has taken the Cafe au Play concept around the city, gathering youngsters and their parents at coffeehouses for networking, hot joe and lively play.
"We've been able to have growing pains along the way, rather than being thrust into a situation and have to learn on the go."
She and daughter Sophia, 7, live in Ladd's Addition, but their roots are in Mount Tabor, where Heying was raised by activists in the Friends of the Reservoirs effort, which derailed city plans to cap the reservoirs. Alissa Keny-Guyer, 47: Her nonprofit career was launched teaching English in Indonesia and continues with involvement on the county's Commission on Children, Families & Community and with Mercy Corps, the Portland-based international aid agency her husband Neal Keny-Guyer oversees as CEO.
These days she's pinpointing her focus on the tiny commercially zoned property on Division, tapping contacts in big business, government and the grant world to keep the momentum going.
"For a lot of us, this project is a model of process, of what can happen. We want to have a vision for what ultimately comes out of the work." Laurel Singer, 48: The wish list for the commons includes rooms for language classes, SAT prep and job training; greenspace for a learning circle; a mini retreat center; short-term child care; and offices.
Singer, a facilitator in private practice and in conjunction with the Oregon Consensus Project, wants more voices to help refine how the property could be used. She's looking for ways to acquire technology that helped residents of New Orleans envision what their community would look like post-Katrina as well as translation equipment that would enable members of local immigrant communities from Somalia, Latin America, Vietnam and China to contribute to the discussion.
"You have unlimited people that you can fold into the process," the 20-year resident of Mount Tabor says from her kitchen table, as sons Ben, 15, and Zack, 12, prepare after-school snacks. "The more places we have as gathering spaces, the better we'll know one another." Brad Mersereau, 57: Mersereau was leaving a fundraiser at the elementary school last year when he glanced across the street at the vacant, run-down Drive Thru Wake Up.
He spied a fundraising thermometer and noticed that neighbors had raised half of their $49,000 goal. An impassioned substance-abuse fighter, Mersereau read a billboard describing how residents hoped to replace the drug property and vowed on the spot to match their contributions.
"I decided right there they should complete their project," says the philanthropist, who lives in the Cedar Hills area of Washington County. His mission is to honor the memory of his sister, Laura Mersereau Pressnall, who died at 46 after battling alcoholism for 25 years.
"When the commons opens, I have asked for an hour a month to share Laura's story, if allowed. Laura died because of booze, I don't want other people to die because of booze."
Sister's legacy could be saving other people's lives
Kimberly Wilson, The Oregonian inPortland Magazine, Thursday, August 2, 2007
Brad Mersereau set what seemed like a steep goal last summer: to document 1,000 years of sobriety among visitors to a Web site honoring a sister who died after a long struggle with alcohol abuse.
He's blown past that benchmark. By last week, 115 people had signed up anonymously, representing more than 1,300 sober years.
"I'm a sole survivor in an alcoholic family system," Mersereau says, sliding a high school senior portrait of his sister across the dining room table in his Cedar Hills ranch. Freckle-faced and ginger-haired with an open smile, Laura peers across time from a day just months before she tried her first hit of LSD.
The experiment had terrible consequences: She followed the example of her father, Bill, who found solace in alcohol. Eventually, he sobered up and stayed that way until he died an old man. But Laura's battle ended differently. She drank and kept drinking until six months before her death in 1999. She was 46 when she died of a perforated gastric ulcer, a complication caused by decades of drug and alcohol abuse.
The family saga consumes her older brother, who holds out hope that Laura's woeful tale might help someone else in similar straits.
So Mersereau, a music composer with credits for songs on television's "Ugly Betty" and Chris Rock's recent movie, "I Think I Love My Wife," hired a Web developer to create an online tribute to getting clean and staying that way.
The Web site, www.bradmersereau.com, is filled with tools, resources for those looking for help, a calendar to celebrate hard-won sobriety and a pledge for youths who agree to avoid drugs, alcohol and cigarettes.
"I want somebody who can't call their sponsor and it's the middle of the night to come to the site and be affirmed," says Mersereau, 56.
A woman in Florida had just such an experience last June, shortly after the site launched. Her one-year sobriety anniversary was two days away when she stumbled on the site after searching for the keywords "sobriety after 1 year."
She added her anniversary to the list, becoming number 10. Then she e-mailed Mersereau in gratitude.
"My younger brother Frank is the person who I feel saved my life from alcoholism," she wrote. "I realized how easily your story could have been his."
Her name was Laura, too.
© 2007 The Oregonian
March 30, 2011 blog entry at The Partnership at Drugfree.org
The Partnership at Drugfree.org is pleased to announce a powerful new alliance with Portland musician and activist, Brad Mersereau. After prematurely losing his sister, Laura, when she was 46 to complications related to alcohol addiction, Brad has made it his mission to make her memory matter. He explains, "The addictive path was my sister's choice at every turn. Nothing I attempted could save Laura without her total commitment to recovery. I tried my best to be a good brother, and I remain supremely motivated to help other families avoid our heartache if they so choose."
To that end, Brad offers teens and young adults an opportunity to make their commitment to living sober lives through a Sobriety Pledge at bradmersereau.com/lauraspledge.html. Taking the pledge is a commitment to honor oneself. It also serves as encouragement for others and helps establish a supportive, sober, peer community for young people. Brad's initial goal was to secure 25 pledges to match the number of years his sister Laura struggled with her addiction. He has far surpassed that goal and, to date, 111 teens have pledged to honor their minds, bodies, and spirits by not smoking, using illegal drugs, or drinking until their 21st birthday. With his 2011 goal surpassed, Brad's new target is 200 Sobriety Pledges by year's end. Please encourage the youngsters you know to visit Brad's website, take the pledge, and learn more.
Brad also helps those in recovery to sustain their commitment on the Sobriety Anniversary page at bradmersereau.com/sobriety.html As of today, 335 anonymous participants signed on and collectively affirmed 4,710 sober years! His annual goal is to document and affirm 1000 new years. Brad's macro-goal is 20,000 drug / alcohol-free years by 2025! Please encourage all in recovery to join this vibrant community.
The Partnership is very honored to work with Brad to fight addiction.
November 17, 2016
Legal Action Center, National Center on Addiction and Substance Abuse, Partnership for Drug-Free Kids and Treatment Research Institute Issue Joint Statement in Support of Identified Solutions
Released today, Facing Addiction in America: The Surgeon General's Report on Alcohol, Drugs, and Health determined that alcohol and drug misuse, substance use disorders and addiction are the most pressing public health concerns facing America. The release of today's landmark report marks the first time a U.S. Surgeon General has dedicated a report to substance misuse and related disorders.
We applaud the Surgeon General's recommendations to take a comprehensive, public health approach to how our nation addresses drug and alcohol misuse and substance use disorders. Our hope is that this report will have a profound impact on public attitudes, policy and practice, much as the Surgeon General's Report on Smoking and Health had on smoking-related policies and attitudes when it was first released in 1964.
Five Heroines

Janet Hughes Mersereau
Brad Mersereau
"We can do no great things, only small things with great love." — Mother Teresa
My wife and children's book author, Janet Hughes Mersereau, is a passionate instructor. She has dedicated her life to teaching, mentoring, and practicing the Golden Rule. She is a model for multicultural advocacy and has exceptional intuitive skills as an ESL teacher. She "pays it forward." As a former student in a vocational school setting I had the opportunity to observe Janet's teaching style. Her ultimate objective was to help me realize my full potential. She encouraged me to implement a project that demonstrated my mastery of the subject and allowed for an exemption of the class. For the past 35 years in multiple teaching settings Janet has encouraged all of her students to become self-reliant learners. What pride I have felt when some of these students have developed their English language skills sufficiently to apply and become United States citizens. Facilitating that achievement is heroic.
Janet was born in Dayton, Washington, in 1947 and attended a two-room schoolhouse in Paterson, Washington before moving to Prosser in the same state. She graduated with honors in 1965 and retired a national Latin competition trophy for Prosser high school in that same year. Motivated by her mentor and Latin teacher, Mrs. Cochran, Janet continued her college education at the University of Oregon. Janet was a dorm counselor for freshman women, was selected for Mortar Board, and graduated with a Bachelor of Arts English degree in 1969. She lived for a summer in Ireland as a delegate of the Experiment in International Living, and then continued her Master of Arts English/Education degree at the University of Oregon, graduating in 1971. Her first multicultural teaching assignment was in Wahiawa, Hawaii as a Leilehua High School instructor. One student was so motivated by Janet's supportive teaching style that, for an instructional unit on Shakespeare, he presented her with an exact scale model of the Globe Theatre made out of toothpicks. In 1973 Janet published an illustrated book featuring her original poems entitled Hues, Rays, and Rainbows. In 1974 she was commissioned by the Marine Corps League of Tucson, Arizona to write historical and promotional articles about the area for the program book of a national MCL convention being held in Tucson.
In both formal and informal settings Janet has consistently modeled passion, enthusiasm and tenacity as an educator and mentor for her students. Her correspondence with former pupils reflects a deep concern as many have progressed in their chosen careers throughout the world. Formally, Janet has taught in settings as a vocational school instructor, ESL Newcomer teacher, Mt. Hood Community College instructor, substitute teacher for both the Portland and Beaverton School Districts, Summer TAG and Migrant Program instructor, private school ESL instructor and as a private school mentor. Informally Janet has volunteered at the Multnomah County Library for the past decade as a Homework Helper, Library Ambassador, Summer Reading Assistant, and ESL mentor. She has also helped ESL students develop language skills through a local church program. In 1994, 1997, 1998, and 1999 Janet served as a SMART (Start Making a Reader Today) volunteer. She published her children's book, Nobody Has a Funny Name, in 1998 and donated 10 copies to each of the over 100 participating Oregon school libraries. I witnessed our Barnes School SMART participant, Yuri Terada, read the first copy of Janet's book. In 2000 and 2005 Janet received awards from Multnomah County for her exceptional service as a library volunteer. Janet Hughes Mersereau is my heroine because she has lived her dream with extraordinary dedication and passion.
"There should be less talk; a preaching point is not a meeting point. What do you do then? Take a broom and clean someone's house. That says enough." — Mother Teresa
Janet Tom Cowal
Brad and Janet Mersereau
"Never doubt that a small group of thoughtful, committed citizens can change the world; indeed, it's the only thing that ever has." — Margaret Mead
One winter day in 1960, a future teacher of applied linguistics and an immediate blessing to the world christened Janet Tom was born. Janet met her husband, Vincent Cowal, a future advanced mathematics and computer sciences teacher, in their 22nd year. In the summer of 1989 they traveled around the world and got married on the way home. Two dynamic and artistic children arrived in 1996 and 1999. Peter Aidan Tom Cowal and Sanya Grace Tom Cowal add the complementary voices to familial singing of the Doxology in 4-part harmony. The cooperative elements of melody, harmony, and rhythm are mirrored in Janet and her family life.
Janet graduated from SUNY Stony Brook, Phi Beta Kappa with Distinction in her Linguistics Major. She obtained a Masters degree in TESOL from Portland State University. She made video games talk in German, French, and Italian in Los Angeles, California. She taught English in Changchun, Jilin, China 1987-1989. Janet also taught applied linguistics through Portland State University and the World Health Organization in Hunan, PRC in 1995. She is a past board member of the Buckman Indoor Park and a former vestry and choir member of St. Stephen's Episcopal Parish.
Currently Janet is a member of the Department of Applied Linguistics at Portland State University, teaching linguistics and applied linguistics and co-teaching a class in Community Activism. She is the Director of the Community and Language Enhancement Partnership — a sustainable and model partnership between Atkinson Elementary School (which her children attend in Southeast Portland) and the Department of Applied Linguistics. One tangible result of this partnership is a multicultural garden that not only produces food grown from seed planted by the elementary school children, but also grows deep multigenerational language relationships. The benefits of the Atkinson Elementary School partnership with the PSU Department of Applied Linguistics, have recently been recognized with multiple awards from Portland State University.
Janet aligns her personal objectives with achievable goals. We find this to be heroic. In her role as the Director of the Community and Language Enhancement Partnership she is able to celebrate, sustain and nurture languages, cultures and the environment both locally and globally. She is implementing her vision to foster student excitement about linguistics. She believes it is important to develop listening skills. By seeking first to understand, Janet implements her ongoing objective to work for social justice.
The harmony of family and community participation is central to Janet's life approach. We also find this to be heroic. Currently, Janet is a member of the PSU Diversity Action Council, Advisory Board Member of the PSU Learning Gardens Laboratory, participant in PSU's Heritage Language Initiative, member of the Oregon PTA, member of the Outreach and Education committees of the Atkinson PTA, member of the Atkinson Learning Gardens Steering Committee, volunteer in Peter's and Sanya's classrooms, and Co-Team Parent for Peter's soccer team.
As a dedicated mom, Janet lists the following as highlights in her journey: raising with her husband, Vince, two incredibly wonderful kids; helping her children with homework and projects; schlepping kids to soccer practices and games, piano and violin lessons, swimming, gymnastics and DoJump! classes; reading and cuddling with her family; singing, laughing, playing games, and making music with her family and friends; and being part of a community of great families supporting each other in the adventure of parenting.
Janet states her biggest challenge is juggling being a mom, a professional linguist, and a responsible contributing member of society while enjoying people and life, staying spiritually centered, finding time to get exercise and make music, and keeping a sense of humor.
We believe that this final favorite inspirational quote selected by Janet serves as a reminder that a balanced life dedicated to melody, harmony, and rhythm in the world is to be applauded.
I am only me, but I'm still someone.
I cannot do everything, but I can do something.
Just because I cannot do everything does not give me the right to do nothing.
— Motto from an Amish School in Pennsylvania
Janeil Anderson Glazier
Janet and Brad Mersereau
In every country, every culture, certain people stand out because they approach life in a heroic manner, giving exceptional service to others and consistently making choices to benefit their fellow beings more than themselves. These individuals lift all of us up, inspiring us to be more courageous, more generous, more optimistic … and they do this simply by living their daily lives. They teach by example. Such a special lady is our friend, Janeil Anderson Glazier.
When I met Janeil in a music history class at Portland State University in 1996, I was impressed by the fact that, as she pursued her college degree, she had a constant companion … her adorable preschool-aged daughter. The youngest of Janeil's five children, Hilary added a delightful element to our class with her golden curls, angelic blue eyes, and happy personality. She was always well behaved, and was therefore warmly welcomed by the instructor! Janeil and I soon became friends. One of our first conversations is still clear in my memory. As I struggled to verbalize a concept deeply significant in my life, she quietly and kindly offered the perfect words with which to express my feelings. I remember looking at her in amazement and exclaiming, "Yes! That's it exactly!" Since that day, I have had many opportunities to appreciate her insights.
Janeil Anderson was born on August 15, 1958, in Brigham City, Utah, the oldest child of Neil and RaNae Anderson. Her family lived in Utah until 1965, when her father went to work for the Boeing Company; the family, which came to include two brothers and a sister, moved to Renton, Washington. Janeil was raised there, and the family loved the Pacific Northwest. She grew up in a home of great opportunities, high expectation, and love. After graduation from high school, she attended Brigham Young University in Provo, Utah. She had a love of foreign languages and dance of all kinds, and majored in Russian and Dance Performance. She performed with BYU's famed Folk Dance Team and Theatre Ballet Performing Company. A torn Achilles tendon and true love changed all those plans … she married Don Glazier on May 12, 1978, and they continued in their schooling. They were blessed to become the parents of five terrific kids. Janeil embarked on what was, to her, the most important part of her life, being a mom and raising her children. She spent the years also serving as a school volunteer — in the classroom, accompanying musical groups, and being the art literacy coordinator. She also served through her church as a den mother, Sunday School teacher, and children's music leader. During this time, she developed herself as a piano teacher and taught piano lessons for twenty years. She was able to work from home and be there while her children were growing up.
Her love of music and art led her back to her education, and she returned to Portland State University to get her degree in Music and Art History in 2000. As her children grew up and began to leave the nest, her interests took her in new directions. The shared hobby of jewelry making led Janeil and her sister Sharilee to start a business, RoosterBlue Jewelry Design, in 2002. Within three years, it became RoosterBlue, Inc., and their jewelry is featured in catalogues and magazines all over the United States.
Janeil feels blessed in life, with a wonderful family and opportunities to explore her interests and ambitions, and, more importantly for her, to grow in her faith and watch her family grow to adulthood and success in their own lives.
To us, Janeil Anderson Glazier is a heroine. Life has brought her challenges, which she has faced with determination and humor … always emphasizing the achievements of others and minimizing her own. She has shown us that friendship is like a lighthouse; we guide one another through the storms and past the dangers, beaming light where it is needed to help our loved ones find the way.
Alice W. Sedgwick, Our Heroine
Avery Sedgwick Neilson
We honor our mother, Alice Sedgwick, for carrying a love of life and wonder of the world around her and sharing it through music with everyone she knows. Born May 3, 1912 in Hood River, Oregon, she says she "came out singing." From an early age Alice learned the twin arts of pure tone and "singing to the second balcony." Her father, Otto Wedemeyer, a choirmaster and voice teacher, possessed a velvet baritone and was her first instructor. From her mother, Martha, Alice acquired the lifelong observance of perfect diction. These musical and literary instincts were the essentials for a life of expression and feeling.
Alice lived in Portland and attended Irvington School and Grant High School. She graduated from the University of Oregon. She was an outstanding student, and inducted into Phi Beta Kappa. Although she graduated with a bachelor's degree in business administration, she would have preferred to study the fine arts. However, the Great Depression propelled her to practical pursuits. Nevertheless, with business credentials and music tucked under her wing, she headed to Paris in the spring of 1939, where she got a temporary job in the US Embassy.
Alice was befriended by other young women in their shared living quarters. Before long, she was singing French songs. As Hitler's armies turned from Russia toward France, the embassy position moved to neutral Holland. In the relative safety of The Hague, Alice resumed her work in the US Embassy, picked up some Dutch and, of course, more songs. Fleeing the advancing German army, her embassy group took a dangerous overland trek beginning in Switzerland, over back roads in France to the only French-Spanish border crossing, into Barcelona and ending in neutral Portugal where she worked at the embassy in Lisbon. By then all of Europe was singing the poignant "Lili Marlene."
As war progressed, Alice transferred to the London embassy. Almost-nightly air raids took her to underground shelter where she helped as a volunteer. She was given the instructions to "Maintain an air of masterly inactivity until the professionals arrive." She still loves to quote these words, and, of course, sing the wonderful songs she brought home when she returned in December 1943.
After the war, Alice married Jack Sedgwick, acquired a Wurlitzer baby grand piano, and began her career as wife, mother, and business partner. Many of our earliest recollections involve that piano. Each noon, when we were children, a siren would sound, drawing memories from Alice of how people in England would dive under their grand pianos to avoid falling debris from bombs. The piano served as accompaniment to all the songs in the Fireside Book of Folksongs. We were always singing while she played the piano. She made us friends with "John Henry," "Molly Malone," and "Sweet Betsy from Pike." She would get us to finish our dinner by the time she had sung the twelve verses of "Green Grow the Rushes." When we had to go to bed in summertime while it was still light, she would sing the mournful "Bed in Summer" by Robert Louis Stevenson. She had a song for everything.
Growing up in her household included early days as a Camp Fire Girl. When Camp Namanu came into her life, camp songs flowed out from her mother, Martha, and cascaded over Alice. Namanu songs of work, play, repose, and worship continued to ripple from Alice down through two successive generations to the present.
In 1953 the Sedgwicks moved from Portland to The Dalles so that Jack could oversee a business venture there. For the five years we were there, music was a big part of life. We joined the Congregational Church, where Mother sang in the adult choir. She established a junior choir, which she directed. Her enthusiasm and confidence were so strong that she even got the boys in the back row to carry a tune. Music carried her through those difficult financial times, and her gift for words came in handy when she was a feature writer for The Dalles Chronicle.
Unfortunately, the baby grand piano did not follow us to The Dalles. Nevertheless, being the resourceful and life-long musician that she was, Alice took up the recorder. Duets with a partner were a big musical boost in the absence of the piano. She would sometimes sneak in a little practice after the choir had exited the church service. The music was known to drift up from the basement where they were playing, through the ductwork, into the quiet sanctuary.
Alice maintained her beautiful singing voice. Songs from the church piano and choir kept it in good tune. She never forgot how to "sing to the second balcony," as her father had instructed. She had a trumpeting "Whoo-hoo" that would ring out across the countryside to call us home.
The baby grand piano made it to The Dalles and music poured forth again. When we moved back to Portland in 1959, the piano followed us. Mother also inherited her father's Mason and Hamlin parlor grand. That meant that our living room sported two pianos. She went right to work and found piano partners. For the next 37 years our house was a festival of music.
During that time, Alice's son, Bruce, and some of his friends, horsed around with the piano, took music and theory, and became musicians. Our family even joined in learning "Little Drummer Boy" for one of our Christmas carol parties. Jack sang the bass "rum-pum-pums"; Bruce sang tenor; her daughter, Avery, sang alto; and Mother sang soprano. Our guests loved our caroling parties. They would start inquiring in October so they could reserve the date.
Throughout her 96 years, Alice has nurtured and shared the fullness of life through music with family, friends and house guests. She still parcels her time with Joyful Notes and Wednesday Music Rehearsal at her home in the Terwilliger Plaza where she lives.
Cindy Dulcich
Nikki Schulak, Janet Cowal, Jean Linscott and Ken Ruoff
"Teaching is not only my job, it's also my hobby." — Cindy Dulcich
"The one thing I always noticed about Cindy, is that she walked into the classroom every morning with a smile on her face, as if we were the highlight of her day." — a former student
It is a daunting task to summarize the enormous impact Cindy Dulcich has had on hundreds of children and their families. She overflows with pride and confidence in each of her students, and has a remarkable ability to understand the educational and emotional needs of each individual student. Cindy Dulcich (fondly referred to as "Ms D" by her student fan club) can capture and recapture the hearts of even the most cynical, frustrated learner.
Her first teaching position was as a 6th grade teacher in Shelton, Washington in 1978. A student from this first class wrote to say, "Cindy taught my sixth grade class thirty years ago and she is the reason I am a teacher today. Cindy's enthusiasm and energy in the classroom cannot be matched. She created an environment that made her students want to learn. Everything seemed exciting when Cindy talked about it. She loved each of us as if we were her own children. Cindy even invited our class to her wedding and to her parents home. I still strive to be the teacher Cindy was to me over thirty years ago."
Cindy still has the cookie jar that class gave her for a shower gift. She was making personal connections in her first year of teaching. She hasn't ever stopped.
Cindy grew up on Mercer Island, Washington, and then moved to Olympia, Washington when she was eleven. Cindy has always had a close knit family and has had an especially important relationship with her father. Her dad, who is turning 93 this year, has always been her confidant; she's always been able to tell him anything. "He has always championed me, and been proud of me. He is the reason I am who I am."
Cindy attended University of Oregon, and later earned a Masters of Arts in Teaching at Lewis and Clark College. She met her husband while at U of O. She taught in Chicago while he earned his law degree there, then they moved back to Portland where they've been ever since. She feels fortunate to have a partner who is as passionate about his work as she is about hers. After being home for some years with her three girls, Cindy took a position teaching 4th and 5th grade at Atkinson Elementary School, where she's now been inspiring students (and parents) for the past 20 years.
Although she was ready to go back to teaching after being home with her girls, it was still a heart-wrenching decision. Her girls were young. Her husband encouraged her to take the position because he knew how much she missed being in the classroom. He has always been supportive of her work, and he's always pitched in, taking the kids to events and classes. He didn't care if they had cereal for dinner.
Cindy job-shared for 10 years, teaching math and science at school, while raising her three girls at home. While there were times when it was hard to concurrently work and parent, she felt a tremendous responsibility to be with her students. Cindy admits she's not good at setting boundaries; she has trouble shutting doors. There's always one more thing to do in a classroom after the students go home, one more thing to get ready for the next day. There is endless need. When her girls (now women) were young, they watched the endless hours Cindy worked and said to her, "We will never be teachers." But now it is apparent that two out of three probably will be.
Cindy says that being a teacher is an honor and privilege. She never takes it for granted. She loves seeing her students every day. Every child – really everyone – who walks in her classroom door gets all of her. Cindy says, "Every minute I am in the school with the children matters. You never know when you are making a memory." Cindy has run 8 marathons. She runs in the morning for an hour before going to work – something she's done for the last 28 years. She seamlessly integrates physical education and team sports into her classroom daily routines. She runs with her students whenever she can fit it into their schedule. She makes time to play kickball with her students during the school day. She teaches them how to juggle.
Cindy has figured out how to create a classroom culture that makes kids want to learn. She believes every student deserves to be challenged. Three years ago as a personal challenge, Cindy started taking piano lessons. She wanted to have the experience of being a learner. She applies what she learns from her piano lessons – to be patient, positive and encouraging with her students; to be clear, articulate, and intentional in her instruction – back to her classroom.
She has always loved being with kids. In high school she would have rather babysat than gone on a date. She enjoyed being a lifeguard. But it was when she became a swimming teacher she started thinking about how to best explain ideas efficiently to kids. It was then that she knew she wanted to be a teacher. She loves to think about what makes kids tick.
Teaching has been very instinctive for her. She teaches from the gut. But she also dwells on how to teach every lesson in the best, most effective way – how to reach every child. Cindy is self-critical and self-conscious, always thinking about how to teach a lesson even better, what words to choose, how to reach one more learner. She practices lessons in front of her mirror. She thinks of teaching as a tremendous responsibility. Even after all these years in the classroom, she asks herself everyday, "How can I be best prepared?" She believes that every moment she shares with her students matters, and she refuses to squander a minute. She wants her students to be able to compete with kids across the country; kids from the most prestigious private schools, or kids at prep schools on the East coast. She knows that someday they will all take the same SAT. These are thoughts that keep her up at night, and that get her out of bed every morning.
In 2010, Cindy was nominated for the OnPoint Prize for Excellence in Education. When an e-mail was circulated about this nomination to our school community notes poured in to support her candidacy. There were letters from students, former students, parents, teachers, grandmothers, classroom volunteers, and multiple student teachers who now have classrooms of their own. Hundreds of people followed her progress in the contest with pride and love, every step of the way.
Cynthia Dulcich is honored by Brad Mersereau. She is a beloved teacher; deep-hearted, innovative and community minded. Cindy Dulcich is a true teaching legend in every sense of the word – at Atkinson Elementary School, in the state of Oregon, and in the world of education, she is a teacher who deserves nothing but the highest honors.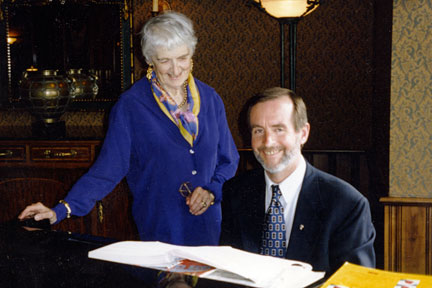 Alice Sedgwick, a family friend beyond dimension.
A Few Memories of …
The Many-Splendored Alice Sedgwick,  1912-2010
by Betty Ashford, The Terwilliger Times, April, 2010
Brad Mersereau Remembers Alice:
My friend Alice Sedgwick taught me through music and deed that the best gift you can share in this life is your sacramental self!
Alice had been a family friend of many years. I knew her son Bruce. After my mother died, I went to see Alice and found her such a good listener. I was getting back into piano and so Alice and I thought it might a good idea if we played the piano together. In 1997, a year after her husband died, she decided that it would be appropriate for her to move to Terwilliger Plaza. We played two pianos together here: Bach and Mozart, and then jazz and Broadway songs. After I purchased a synthesizer for the auditorium, we had an open rehearsal there for seven years. I so enjoyed spending time with her and expressing the joy of music with her in dialogue. Doing it musically with two instruments is different from speech, and it was fun to communicate with her in that way.
Alice fractured her hip in 2007, but that didn't stop her musical career. She went to Robison's to recover and insisted that I find out where the piano was, and in a week, not only had I found the piano, but I was playing the piano and she was singing! I'm convinced that she sang her way back to health. She was an entertainer and loved to perform. When she came back to her apartment, I played her piano and she would sing. I also prepared her lunch 6 days a week. I wanted her to have 1,000 calories a day so I'd fix a five- or six-hundred-calorie lunch. I just always enjoyed spending time with Alice. I liked listening to her. She was very wise. In January, 2009, she fractured her right hip, sang her way out of that, and then became a part of the Metcalf in the shadow of the ginkgo tree. We had our music and sing-alongs before lunch there. Her joy was consistent from 1992, when she first listened to me talking about my mother, through the year 2010. I experienced the thread of music and the thread of joy with Alice!
Betty Ashford Remembers Alice:
She wasn't like the rest of the residents on our floor. She was always a performer. Maybe it was the way she talked. With a low, modulated voice, drawn-out a bit for more drama. Always friendly and present.
We were in plays in the early years of the Plaza Players. She was especially good at playing overly dramatic women, or empty-headed girls who asked stupid questions. But whatever her part, Alice the actress was always very visible. There came a time when she and I tried out for a play and neither of us got a part. She was deeply disappointed and she said to me in a whisper, covering her mouth, "Well! We're the has-beens now! They'll be picking younger, prettier women. We're going to be left by the wayside!"
Alice had several ways of attracting friends and an audience. She sang, played the piano, and told wonderfully romantic true war stories that really happened to her. And yes, later she did get parts in plays again, and always applause — for an unforgettable lady. Alice Sedgwick! There was no one anywhere who was anything like Alice!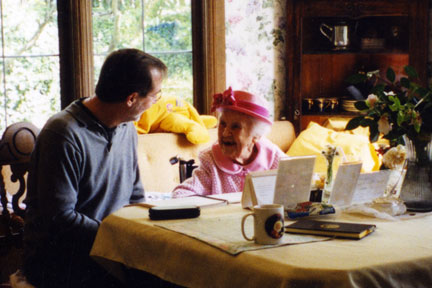 Beatrice Paget, 105 years Young at Heart.
One LEM's Remembrance of Beatrice Paget
The Sentinel, June 2002
The memorial service for Beatrice Mary Paget was held on June 14, 2002 at St. Stephen's
I met Bea in the fall of 1993 and rather than The Skilled Pastor, or annual autumn brush-up classes at Trinity, or any other resource material, it was she who most skillfully taught me through experience how to be a Lay Eucharistic Minister. All I had to do was follow her lead, because for the next 10 years I was her student and she, my teacher. On her chalkboard that day, right next to the front door with the special sliding wood panel to greet guests, were Bea's instructions. "When I get to heaven, call Finlays." Talk about an overwhelming statement of faith! Because I did not know yet of her home-care situation, a survey of the neighbors was important, and yes, indeed they were all looking in on Bea.
Bea radiated God's love through his risen Son, Jesus Christ. If I had forgotten, her very essence reminded me that we human beings are all sacraments. What a gift! If you were fortunate enough to have your picture taken with Bea, the evidence throughout her dining room demonstrated that you were all the more photogenic being next to her, and that goes for Snowball, her horse, as well.
I realized just under three months ago that it would benefit me to be spending more time with Bea. With Becky, her caregiver's blessing, we started a new home-communion service with new sacraments. As Mitch Albom had his Tuesdays with Morrie, I had my Thursdays with Bea. We talked about diverse subjects that enthused her, but even when Bea didn't talk, she was instructing with her body language and connection to larger truths. We read from a number of books including The Prophet and Nobody has a Funny Name … twice. We sang "Take Me Out to the Ball Game," and the implied accompaniment rivaled that of any heavenly choir.
On our last Thursday, May 30th, Bea's opening remark in the midst of her own pneumonia was, "Isn't it a beautiful day?" That was the day I mentioned I loved her. To incorporate one of Larry's favorite words, Bea was the quintessential authentic example of God's abundant love in action and she still is.
Brad Mersereau
CNN Heroes Nomination
submitted July 4, 2011
by Janet Hughes Mersereau for Brad Mersereau
In your own words, why does your nominee deserve recognition as a CNN Hero? Please describe in detail your nominee's specific accomplishments and what was involved in achieving them. Be sure to include the dates of the activities.
My husband Brad Mersereau deserves to be recognized as a hero because his tireless efforts to save young people from the tragedy of drug/alcohol addiction have opened doors to freedom for many children already and will continue to lead the young in countless countries out of their self-made prisons into the sunlight. Brad's mission is to keep the memory of his sister Laura alive with proactive addiction recovery and prevention support at his website www.bradmersereau.com. Laura died on June 13, 1999, four months and six days after her 46th birthday, from health causes related to her 25-year unsuccessful struggle with alcoholism. Sadly, 100,000 Americans die annually for similar reasons from this disease. 25% of America's college youth are abusing or are addicted to alcohol or drugs. In December 2008, Brad cosponsored with the Oregon Partnership a college scholarship essay contest with 125 high school participants describing their effective drug/alcohol refusal skillsets. Since launching his website in May 2006, Brad has secured 5325 sobriety anniversary years from 380 anonymous participants and 123 sobriety pledges.
How have your nominee's efforts made a difference for the better? Please describe their impact, potential impact, and how they have inspired others.
The positive effects of Brad's mission-inspired work have grown exponentially. He believes that leveraged fund-raising can produce effective sobriety-related outcomes. Brad has raised $2,360,000 for 9 Portland, Oregon-based addiction prevention and recovery programs since Laura's death on June 13, 1999. Matching funds in these programs total $1,400,000. Union Gospel Mission considered Brad's lead gift a tipping point for their LifeChange residence facility. Central City Concern credits Brad's fund-raising and vision as instrumental in establishing "Laura's Place," a monitored transitional recovery 4-plex for women who are breaking the bonds of their former addictions.
Is there a specific incident or turning point that motivated your nominee to take action?
Laura's 25-year alcohol-induced downward spiral was a slow suicide culminating in her death. This motivating event set my husband on an intentional course of action. Energized by the bittersweet strength of heartbreak, he seeks the solace of a cleansing scar — to be achieved by his mending drive to make Laura's memory matter. Brad considers the process of addiction prevention and recovery a Sisyphian puzzle to be solved.
Is there anything else that makes your nominee exceptional or unique?
Brad Mersereau is a multi-talented man. He is a gifted musician, composer, spiritual leader, mathematician, social activist, and teacher. His varied abilities are directed toward a single purpose: the ever-widening implementation of his mission to keep Laura's memory alive. His macro-objective is to celebrate 1000 sobriety pledges and 20,000 sobriety anniversaries by 2025. Brad's musical compositions have been played by symphony orchestras and have been featured on radio, on television, and in movies. BMI and IMDB confirm that over 45 million folks have heard his music via these media.
How will being recognized as a CNN Hero further your nominee's cause?
Lives may be saved and recoveries may be affirmed through potentially hundreds more sobriety pledges and thousands more sobriety anniversaries. As more people become aware of Brad's cause, the effectiveness of his campaign will increase. He believes Emersonian self reliance fueled by reliable addiction prevention and recovery techniques is a game-changer.
Progress continues: As of August 25, 2019 Brad has raised $4,400,000 for 9 Portland, Oregon-based addiction prevention and recovery programs with matching funds in these programs totaling $2,800,000. He has secured 22,000 sobriety anniversary years from 1104 anonymous participants, and 368 sobriety pledges. His current macro-objective is to celebrate 500 sobriety pledges and 25,000 sobriety anniversaries by 2025.
Student essays are gifts for the ages
Melissa L. Jones, The Oregonian, inPortland, Thursday, March 8, 2007
Third grade teacher Gayle Moist certainly makes an impression. Maybe that's why some of her former students at Atkinson Elementary in Southeast, when asked to write about someone "older" as part of a gerontology project, chose her.
Moist turns 63 today. She doesn't count herself among the elderly yet, but takes it all with a laugh.
Fifth-graders (and a few fourth-graders) across the Portland school district took part in the essay project, "Bridging the Generations: An Older Person I Know," intended to connect young people with the idea that they live in an increasingly older society. The project was designed by the Association for Gerontology in Higher Education and Portland State University's Institute on Aging.
Contest organizers were surprised when four students wrote about the same person — Moist. But is 63 that old?
Moist has Chinese vocabulary on her classroom walls, a personal copy machine at the back of her room and uses a Britney Spears-style headset to amplify her voice during her reading circle.
But she's old enough, apparently, for fifth-graders to think of her as graying, though her hair is decidedly brown.
" 'Her white hair' — I take exception to that — 'is like falling snow,' " Moist reads from one essay.
But age is a funny thing in the mind of an elementary school student. Every year, Moist builds a number line with students and asks them to place her age. She's been put at 12.
"I love the ones that guess me at 30," she says.
Or maybe the kids were reacting to her traditional sensibilities. "She's very orderly with a routine, like a flag salute," says Principal Chris Gutierrez. As Moist puts it: "I teach values. I give homework."
Her classroom reflects that. Moist has 5,454 books in her room, each of them numbered. At home, she wakes up every morning at 4:30 and gets on her treadmill, in front of a bulletin board filled with her students' photos. She says a prayer for each every day — and becomes weepy when describing this routine.
She came to teaching late, going to school after she'd raised her children. She started on her education degree at 44 alongside her 22-year-old daughter (who gasped when Moist told her she was associated with a gerontology essay).
The essays capture her penchant for tearing up easily, and her love of books.
"She cries when she reads a sad story," wrote Linda Zhu.
"Mrs. Moist's favorite author is Patricia Polacco," wrote Megan McCormick. "She read us all her books, and some of Kate DiCamillo's too.
"I would never be where I am today if I wasn't in her class," Megan continued, "and now I can read all kinds of books by several different authors."
In her reading circle last week, students read poetry, but not before they were asked to remind one another of the timeless rules of a good audience:
"Listen and watch," said one student.
"Put your hands in your lap," said another.
"Don't sit by the person you're going to get in trouble with."
When the class has been behaving well, Moist brings her Dove Lewis-certified golden retriever, Ginger, to class. That clearly helps Moist connect with the kids.
"We have a lot of older people in our society," says Moist. "The idea of them contributing to our society, it's something we need to support and encourage."
As for the essay contest, Moist earned a Special Teacher Award and was to join the winning students at a reception last weekend. Alas, none of the students who wrote about her made the top four. But three classmates did, including Lu Imbriano, who won first place for an essay about her 70-year-old grandmother, and Peter Cowal, who took second for one about a family friend, Brad Mersereau.
And Mr. Mersereau's age? He's 57.
—
Here's what essay writers had to say about their former teacher, Gayle Moist:
"Have you ever had a teacher you'd never forget? I have. She has white curly hair that looks like snow that just fell from the sky. When she's cold, her rosy cheeks are as red as apples. She loves all books. She treats her books like her most valuable treasures. I think Mrs. Moist is one of the best teachers in the world because she's an experienced, sweet, fun teacher that loves kids." — Vicky Gimm
Mrs. Moist "loves her job being a teacher because she loves kids and loves to help them learn. She loves to read books to kids. I would never be where I am today if I wasn't in her class, and now I can read all kinds of books by several different authors. To me, Mrs. Moist is the kindest, nicest, and most loving third grade teacher." — Megan McCormick
"Mrs. Moist was my third grade teacher. Mrs. Moist loves her kids just like she loves her family. Mrs. Moist reads to her kids two times a day. (She) cries when she reads sad parts in books. Her eyes are as blue as the summer sky (and she) wears different earrings each day. Her birthday is March 8th. Mrs. Moist is a very nice teacher and I like her very much. She treats us like her own kids." — Jenny Zhu
"Mrs. Moist is a very nice teacher. She helps us (with) our homework if we need help. Mrs. Moist has lots of books. Her classroom is like a library. (She) gives team points if our team works hard and she gives team points if we are quiet. Mrs. Moist is very kind to us (and) that is why I like Mrs. Moist very much." — Linda Zhu
—
Essay winners:
First place: Lu Imbriano, Atkinson Elementary, "My Popo," teacher Cindy Dulcich
Second place: Peter Cowal, Atkinson Elementary, "Brad Mersereau, My Good Friend," teacher Cindy Dulcich
Third place: Kyle Harris, Stephenson Elementary, "My Inspiration," teacher Todd Graham
Special Mention: Aleisha Clark, Atkinson Elementary, "A Marvelous Teacher," teacher Tessa Luk
© 2007 The Oregonian
Cultivating friendships and community is a key ingredient to a healthy lifestyle. I am honored and humbled by my friend Peter Cowal's essay. It recently won 2nd prize in a contest sponsored by the Association for Gerontology in Higher Education for all Portland Public School 5th grade students. Peter is a 4th grade student and I am 3½ years shy of my 60th birthday so we were allowed to be included in the spirit if not the letter of the law.
Brad Mersereau, my good friend
by Peter Cowal
"Nice jazz, Peter," my good friend Brad Mersereau remarked. He was playing a blues pattern on his grand piano, and I was playing around on his synthesizer set on "Trumpet." I was at his house celebrating his birthday. My mom had baked brownies for him and Janet, his wife, and my sister decorated them. It was a great evening.
He and I met at St. Stephen's church. Then, after awhile, we got to know each other really well. Once, he came to my house and taught me chess moves. It really improved my playing!
Brad really cares about my school and community. " Drive Thru Wake Up," a drugstore across the street from Atkinson Elementary, my school, was closed down for selling illegal drugs. Our community was trying to buy it, and Brad pitched in over twenty thousand dollars! At "Run for the Arts," a fund-raiser for Portland Public Schools, he sponsored me ten dollars for every lap!
He really loves my sister and me. Brad comes to all my soccer games and violin recitals. Once, for my birthday, he gave me a chess timer! He and I both really like chess.
Brad and I have a major thing in common: music. He has written many songs. In fact, he is a full-time jazz musician. Brad has made a bossa nova tune about Frigid, one of my stuffed penguins. He has made at least two CDs, and one of my compositions is on one! It started on one of my birthday cards to Brad; I made some letters look like notes, and I put them on a staff. It ended up as a song called "La Petite Enfant." It is about the birth of Jesus Christ. He and I have a great relationship through music.
I am very lucky to have an older friend like Brad. I hope that everybody my age has a friend like him, and I hope you, in your youth, had a strong connection with an elder person.
I am humbled and honored by my friend Sanya's essay which she composed as a 5th grade student. Janet and I remain grateful for a special friendship with the entire Cowal family.
Brad
Do you have someone special in your life? I do. His name is Brad. Brad is a jazz musician and he plays the piano. In this paper I will tell you about Brad, his music, and why he is special to my family.
Brad isn't related to my family by blood, but his friendship makes him like an uncle to me. When Brad comes over to our house, we have coffee, tea, and cookies. I usually have peppermint tea, my brother has Good Earth, my parents have coffee, and Brad's drink always varies. We spend the time eating and talking about school and Brad's new songs. Sometimes Brad will play his songs on the piano or bring us a CD. I look forward to tea time with Brad.
Brad writes songs about a lot of things, but some of them are inspired by people. Brad wrote a song called "Pete's Penguin" that is inspired by my brother Peter's stuffed penguin, Frigid. It doesn't have any words in it, but listening to the bouncy music makes me think of Frigid hopping around on icebergs. Another of his songs is called "Sanya Grace" – my name. It was inspired by my dancing. I like listening to those two songs because it puts a familiar image in my mind.
I look forward to when our car stops in front of Brad's house. I jump out and comment on the odd but wonderfully shaped tree in his front yard. When I get inside his house, I feel warm. I look at Janet, Brad's wife, her warm smile and her shining eyes behind her glasses. Then my eyes focus on Brad's socks. The piano design on them goes well with Brad's black and white outfit. We usually venture into the music room where there are lots of instruments and a chess board. The piano is covered by cards and art, some of them my own. Brad plays the piano while my brother plays violin; I used to fool around on the congas, but now I can play the violin with Brad as well. My mom will smile while my dad takes pictures. When we are done we have refreshments and cookies. I enjoy visits to Brad's house.
Brad is really supportive of all my activities. He comes to my dance and violin recitals and gymnastics shows. He's a generous person, a wonderful musician, and very special to my family. I'm glad to have Brad in my life.
Sanya Cowal