Terwilliger Plaza Fall Gala Music Program
October 29, 2020 5 PM
Solo piano closed circuit television concert honoring the memory of my wife Janet Hughes Mersereau.
Good evening. I'm Brad Mersereau. In the recent past, I've been known to frequent the Game Room aka The Pool Hall and to offer Promenade piano music. Welcome to this portion of the Fall gala. I am grateful for this opportunity. Though I can't see you, my goal is for the music to connect in a relaxing manner … so kick back and let's have some fun!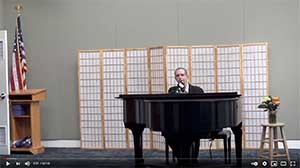 Time After Time
Jules Styne / Sammy Cahn, 1946
It Happened On Broadway – 1946 Musical and 1947 Film Frank Sinatra Vocal with Andre Previn on piano but not seen.
Moon River
Henry Mancini / Johnny Mercer, 1961
Beautifully evocative Breakfast At Tiffany's Movie Theme won Academy Award and Song & Record of the Year Grammys. Written in F Major for Audrey Hepburn's vocal range.
The Nearness of You
Hoagy Carmichael / Ned Washington, 1938
Author /composer Alec Wilder who wrote American popular Song described Carmichael as "the most talented, innovative, sophisticated & jazz-oriented of all the great craftsman of pop songs in the first half of the 20th century … a subjective judgment, but high praise indeed!
And I Love Her
John Lennon / Paul McCartney, 1964
Peaked at #12 on the Billboard Top 100 chart Mostly written by Paul with perhaps an assist from John on the bridge. Lennon said that it was McCartney's first Yesterday!
Paris
Brad Mersereau, 2015
I was inspired by a 1994 photo of my friend and minister Father Phillip Craig and his soon to be wife Jennifer just before he proposed marriage on the Champs Elysees. Polka Dots & Moonbeams harmony portions. Listen for the bells!
The Very Thought Of You
Ray Noble, 1934
First recorded by Ray Noble & his orchestra and released in England. US #1 on Pop charts!
How Insensitive
Antonio Carlos Jobim / Vinicius De Moraes / Norman Gimbel, 1963
Harmonic Inspiration from Chopin so we'll begin with his 4th Prelude in E minor.
Autumn Waltz
Brad Mersereau, 2004
Burnished leaves do the dance and the world feels young again. Colors glide, simply waltz into the Fall. Autumn dreams gently sing, gently swing again. Its the season I love most of all. I wrote this waltz for T Plaza resident, Alice Ann Morden. Allice Sedgwick convinced me to rewrite the bridge. Burke Morden's tribute is the rooftop sundial which includes arrows to the mountains. Rain or shine, we know where they are.
Manha De Carnival
Luis Bonfa, 1959
Black Orpheus Carnival Morning won an Academy Award and popularized the Bossa Nova outside of Brazil.
Love Is Here To Stay
George Gershwin / Ira Gershwin, 1938
Gene Kelly Leslie Caron vocal in An American in Paris. Ira wrote the lyrics as a tribute to his brother after George died in 1937.
Charade
Henry Mancini / Johnny Mercer, 1963
Mancini was briefed on this romance mystery set in Paris starring Carrie Grant & Audrey Hepburn. Within an hour, he wrote a haunting "sad little waltz" which was nominated for an Academy Award.
Kansas City
Wilbert Harrison, 1959
This is a lively blues request, and you know who you are!
Performed Moon River on 2 Pianos as a guest during January 10, 2020 Terwilliger Plaza concert with Thomas Lauderdale during his concert with Hunter Noack.
Just for the Love Concert
April 10, 2019, Portland State University, Lincoln Hall
Correspondence with Darrell Grant
Good morning, Darrell. I feel so grateful for a continued active connection with PSU much which has been nurtured by you. Collaborating with Steve and Danielle yesterday in Lincoln 75 felt like a heavenly dream now realized. Danielle's vocals soared and Steve's musical beauty extraction from all 88 keys of the Lang Lang NY Steinway was masterful. Your serendipitous affirming introduction heard by Janet and friends in the audience touched my heart. I found your written remarks on the stage and wonder if you would grant permission for their inclusion on our Community webpage @ www.bradmersereau.com in addition to the upcoming YouTube video. I appreciate our friendship, Darrell. You inspire me. I agree with Steve that we can't do it alone and remain a big fan of synergy in all matters including music. Sincerely, Brad
Darrell Grant's Remarks for Brad Mersereau Noon Concert:
Music can be many things. For some it is a career. For others a passion. It is a vehicle for culture. It can be a means to bring about change. For many of us here it is a life-practice through which we learn about ourselves, and a lens through which we see the world. Music can also be a gift, and that is what today is really about. The gift that music brings to our lives.
Something I have always admired about Brad Mersereau is his sense of music as a gift. Never something to be taking for granted. Something to be treasured for its delights, its challenges, its surprises, its rewards, its healing power. Brad helps me appreciate that music is more than just — music.
Ralph Waldo Emerson famously said "the purpose of life is not to be happy. It is to be useful, to be honorable, to be compassionate, to have it make some difference that you have lived and lived well."
Brad Mersereau embodies that statement. He is an alumnus of this institution, graduating with a B.A. in Composition in 1973. He is a jazz pianist with 2 CD's as a leader; a post-production composer with placements in 25 TV shows and 4 movies. He is an investor and philanthropist whose fundraising efforts have raised millions of dollars to fight alcoholism in memory of his sister Laura. He is a sobriety advocate who supports, encourages and inspires people to change their lives — more than 20,600 collective years of sobriety from 1092 individuals; a sobriety pledge encouraging over 350 young people to honor their "mind, body, and spirit by not smoking, using illegal drugs, or drinking alcohol" before their 21st birthdays; as well as addiction recovery resources and letters pledging lifelong sobriety from graduates of comprehensive addiction treatment programs.
Some other lives he has changed are the recipients of the PSU's William Bradford and Janet Hughes Mersereau Endowed Jazz Scholarship that he sponsors with his wife Janet. 18 PSU seniors over the past 13 years. So many of whom are pursuing thriving careers across the state and the country and the world. You see them perform, hear their recordings, read about them on social media and in the press:
Chance Hayden
Matthew Tabor
Branic Howard
Patrick Harry
Matthew Steele
Elysia Strauss
Brittni Williamson
Mario Sandoval
Matthew Hettwer
Nicole Glover
Jonathan Huteson
Patrick Nearing
Kanda Mbenza-Ngoma
Meghan Wilson
Noah Simpson
Cory Limuaco
Micah Hummel
Nicole McCabe
And lastly, Brad is someone who deeply inspires me. Not just because he has had a true impact on the world through what he does. But because of who he is. He is an example of faith, humility, generosity, balance, service, discipline, and something even more fundamental — the power of love. Music is just one piece.
Brad is joined by one of the Northwest's most inventive pianists. Steve Christofferson plays piano with exemplary depth and warmth. I know him best from his years as musical partner to Nancy King. He too is an inspiration, and one of the most original and soulfully creative musicians I've ever met.
So there is lots of love in the room.
Enjoy!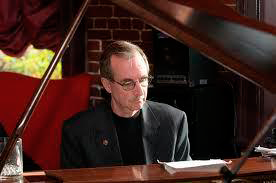 PSU Connections: Celebrating the Mersereau Music Scholarships Concert.
A performance of 11 original compositions on October 25, 2014 at PSU 75 Lincoln Performance Hall.
Read more about the concert on the PSU website.
Check out the concert program.
Brad's Remarks at the Concert
"Everything happens for a reason.  I spun around at Whitman College in Walla Walla, Washington during the late 60's and thankfully found my Music Major home at PSU in 1971.  I continue to believe that developing active listening chops in musical settings and myriad life situations enhances conversation content possibility.  Observing the dynamic PSU Jazz Music Program and Mersereau Scholars' pay it forward approach since 2007 inception facilitates my learning and growth as a musician and composer.  I embrace this inspirational connection!  Junior / Senior recitals and masterclasses affirm that the art of jazz dialogue is an elastic, evolving, and exhilarating process.  It is heartening to see that managing one's finances and life off of the bandstand is addressed formally and informally.  I remain a grateful partner in all of this and am proud of all 12 dedicated recipients of my endowed senior year scholarship.  In my book, you and your educators receive 5 stars!  Thank you."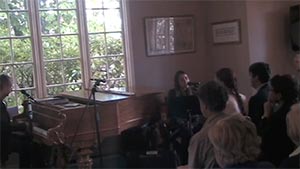 Ascension Episcopal Parish Concert performance with Steve Christofferson playing melodica and Sanya Cowal singing and playing electric bass and guitar.
Terwilliger Plaza Concerts 2012 to 2021
October 21, 2016 Concert Remarks
Good evening. We thank you for your presence. I am Brad Mersereau and honor my sister Laura's memory through tangible sobriety advocacy work. I also write music for tv and movies and have been playing piano here offering music for the Plaza Dining Room, the Heights Cafe adjacent swimmers, and Terrace or Metcalf Center diners at least twice weekly since 1997. My friend, Ann Neuman, plays many instruments including cello, with the Beaverton Symphony, guitar, piano, and upright bass in addition to singing and directing the Plaza Chorale. As a retired public school music educator, Ann was and is prepared to play all instruments. We agree that Terwilliger Plaza is a fabulous community, and it is always a pleasure to share music. Tonight's goal is to provide a cozy organic musical connection which reflects our weekly Friday morning rehearsal sessions of the past 3 years. In other words; we're here to have fun! By the way, during the past 2 decades my most frequent question from Plaza residents is: "Do you live here?"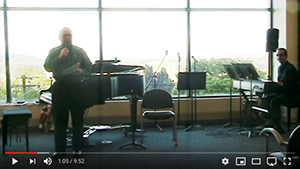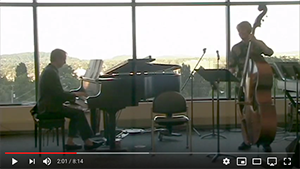 Musical performance of four pieces on July 25, 2014 for the "Many Hands Make Light Music III" Concert (Sequel to the Sequel) at Terwilliger Plaza.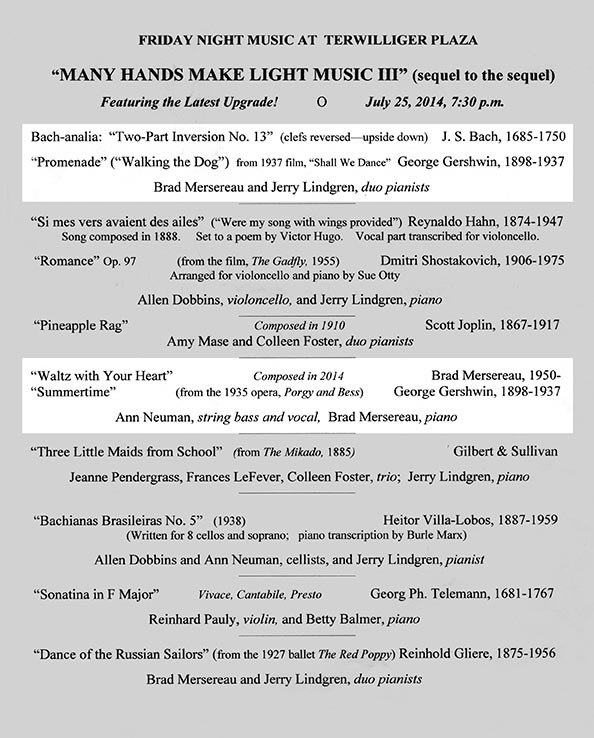 2014 Many Hands Make Light
Music III Program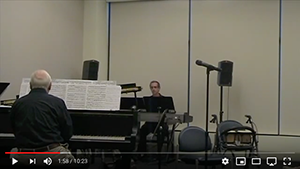 Musical performance of three pieces on July 26, 2013 for the "Many Hands Make Light Music II" Concert (The Sequel) at Terwilliger Plaza.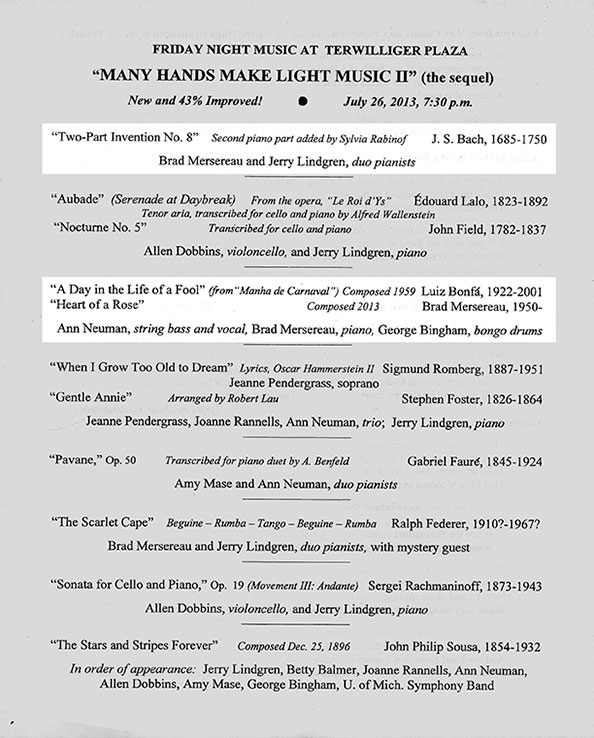 2013 Many Hands Make Light
Music II Program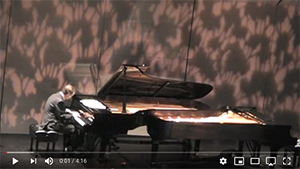 PSU All-Steinway Concert
Lincoln Hall, October 21, 2007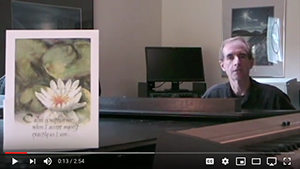 Sanya Grace Dedicated Performance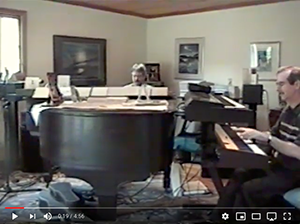 Pete's Penguin Original Tune
with Steve Christofferson on Piano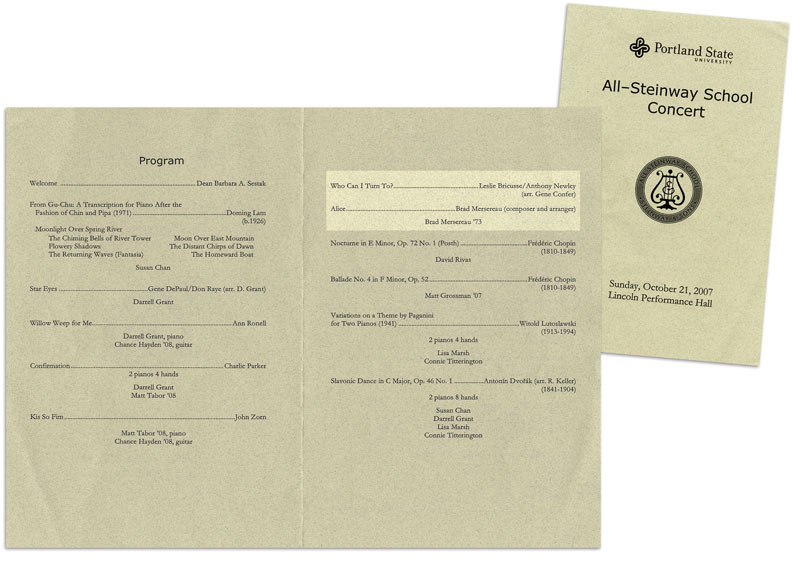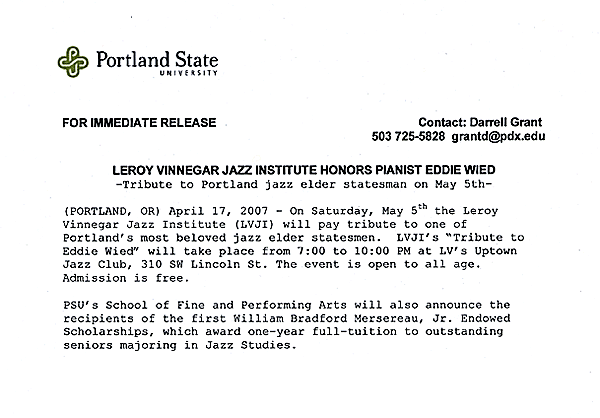 Solo piano concert at St Stephen's Episcopal Parish honoring the memories of Ellen Purdy, Robert Mighell, and my parents; William Bradford and Anne Chapman Mersereau. Performed November 29, 1992.